I think it's fair to say:
Planning a wedding CAN BE really, really stressful.
But, I think planning a destination wedding SHOULD BE fun, exciting and affordable.
Well it turns out, you can dramatically reduce the "pain" of planning a destination wedding by following a simple plan…
…a plan that involves a minimum of stress and involves a budget that is far less than you would need for a traditional wedding.
In this destination wedding planning guide, I am going to give you –
1. everything you need to decide on whether to have a destination wedding
2. everything you need to plan your destination wedding
In the over 27+ pages of this guide, I've tried to give you everything you need to begin the process of planning your destination wedding.
The guide should take you from the initial question of whether or not to have a destination wedding in the Caribbean and then later it will give you ideas, inspiration and advice about planning a wedding in paradise.
Is a destination wedding for us?
This is where you begin:
In my mind, there are several good reasons to have a destination wedding, including
GORGEOUS LOCALE – A destination wedding gives you a wedding in any setting you want in the world. I'm guessing you've been to countless weddings at the same old venues where everyone else gets married?
IT'S FREAKIN EASY! – With a destination wedding you will be working with a wedding planner or resort staff, so everything is taken care of in advance…all you need to do is show up.
AFFORDABILITY – Total wedding costs for destination weddings are cheaper than traditional weddings. They limit your guest list and because of the stunning setting, you'll save on décor. Additionally, destination weddings provide incalculable value such as:
A GUARANTEED HONEYMOON IN PARADISE – You are already in a beautiful location. Your honeymoon begins the moment you step off the plane in paradise.  Call your destination wedding a "wedding-moon".   A destination wedding-moon means you will not only have time together before and after your wedding, you'll also have:
A ONCE IN A LIFETIME REUNION OPPORTUNITY – While some couples planning a destination wedding are eloping, a wedding in paradise brings your family and friends together for a once in a lifetime occasion. And because every detail is planned before you arrive, you'll have plenty of quality time with your loved ones while together.
EXPERTISE – Chances are, this is your first time planning a wedding and maybe your first time in the destination location. Destination wedding planning experts organize hundreds of weddings per year. They know every aspect of coordinating travel, wedding planning, vendors, cost vs. value, and budget. Because of their expertise and number of weddings they perform, they also have an extensive knowledge base regarding wedding day protocol, etiquette, and innumerable wedding inspirations and tastes.
If these reasons don't inspire you, then a destination wedding is probably not for you.
Picking Your Wedding Destination
A destination wedding by definition is a wedding in a location other than where you live.  So, you can have a destination wedding in Akron, Ohio (no offense Akron!) or Venice, Italy.
But I live and breath the salty, blue waters of the Caribbean.  So forgive me in advance for my sole focus on the windswept islands and coasts of the Caribbean Sea.
Some of the most beautiful places on earth are found in this part of the world.
The water is the bluest blue, the weather is heavenly year-round and the sand is white as snow.  And while I have my favorite spots in the Caribbean, you can't really go wrong with the vast majority of places found in these parts of the world.
Many couples choose a Caribbean destination wedding because there are so many different kinds of options, from islands covered in spectacular volcanoes to island surrounded entirely by white sand beaches.  Choose an island that suits your taste and style and will offer your guests the kind of adventure that you want to share with them.  Remember, they're committing a lot of time, money and energy into joining you for your special day.
–Sandy Malone, owner of Weddings in Vieques and Sandy Malone Weddings & Events, star of TLC's "Wedding Island"
Having been in the industry for over a decade, I've met planners and vendors from all over the Caribbean.  I've visited many of the islands and lands bordering the Caribbean Sea.  And I've even performed weddings in the Bahamas, Jamaica, Antigua, Puerto Rico and the Virgin Islands.
Here are some of the Top Spots for a Destination Wedding in the Caribbean:
Mexico
Cozumel                   Cancun
Jamaica
Negril                        Montego Bay
Virgin Islands
St. Thomas/St. John/St. Croix
Bahamas
Antigua
Turks & Caicos
Anguilla
Bermuda
Puerto Rico
Vieques
Nevis
Grenada
Picking a destination is dependent on your tastes.  A little research may be involved.  Things to consider:
1. Travel
Some of the islands are easier to get to than others.  For example, several airlines offer direct flights to Puerto Rico and the Virgin Islands.  While others, such as Grenada, you have to rely on local airline carriers or ferry boats.
For less traveled locations, the cost for travel increases.
US Passports are also required for non-US territories.  Again, Puerto Rico and the Virgin Islands do not require passports, but Antigua, Nevis and the Bahamas do.
2. Marriage laws (more on this later in the post)
3. Activities and Amenities
If you are staying for a few days at your destination, check out the things to do in that location.  For example, if you or your guests like ziplining, sailing and scuba, see if there are acceptable options at the destination.  Most destinations have plentiful Tripadvisor reviews, or search for things to do in that location.  (A great example for St. Thomas and St. John is Virgin Island Saver).
4. Wedding Venues
Whether you are planning a resort or villa wedding (a great example is The St. Thomas Wedding House) look into the offerings to ensure your group can be accommodated.
Ceremony & Reception Spots at Your Destination
If you've traveled all the way to the Caribbean, it's probably a safe bet that you want to have a beach wedding or a wedding overlooking the water.
Beach Weddings
In wedding locations with beaches you will need to decide which beach and where on the beach to hold your ceremony.  Thankfully, your wedding planner will know the best beaches and best spots on the beach for weddings.  The beach, of course, is the most popular option for many destination wedding ceremonies.
As a general rule, when possible, start your ceremony before 11am and after 4pm to avoid the heat and the crowds, and for the best lighting for photography. That being said, there is nothing that says you can't have your wedding ceremony any time of day.
Villas, Gardens & Churches
Most of the Caribbean islands have location options for brides who don't want to get married on the beach. These locations include private villa gardens, historical ruins, and old churches. Some of these locations are also amazing private reception venues for groups of all sizes.
Most ceremony locations feature amenities such as restrooms, bridal dressing suites, built in music systems and more. Each of these locations have different pricing structures and menus so speak with your planner about the options.
Below are several examples of beautiful wedding ceremony and reception locations.
| | | |
| --- | --- | --- |
|   |   |   |
| Seaside Villa | Seaside Villa | Botanical Gardens |
|   |   |   |
| Historic Churches | Old Ruins | Coconut Groves |
Beach Receptions
Your closest family and friends have traveled hundreds or thousands of miles to share in your wedding day.  So a reception is a must.  For cruise ship people this might just mean getting everyone together to eat on the ship.
If you plan on holding a reception for your guests you can opt for a restaurant or better yet, a beach reception.
A reception right on the beach is an awesome way to celebrate your nuptials. Clients planning simple weddings, without a reception, will often opt to have a cake cutting and champagne toast immediately following the ceremony right on the beach. If you have lots of guests, you may want to also have beverages and appetizers available.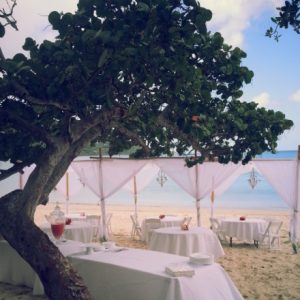 If you'd like to make a day of it on the beach – swimming, snorkeling, kayaing, etc. – a beach reception might be a great option for you.
A beach reception does involve some heavy lifting, but that is why you hired a planner!  Because food is prepared off-site you might be limited on menu options.  But having a less formal reception on a beach means you don't have to have an 8-course meal.  Boxed lunches, beach bbqs, are usually a great option for a beach reception.
You also have to account for cover, but wedding planners have canopies, tents and plenty of other ways to make your guests comfortable.  So be sure to speak with your planner about the contingencies plan in the unlikely event of rain.
For most couples, the best part of a beach reception is that you can change out of your wedding clothes and hop right into the water.
I love beach receptions. Right after the ceremony your guests get to relax and enjoy the scenery and refreshments while the couple takes photos. Then it's time to eat, drink and be merry on a beautiful beach in paradise!

-Amber with Blue Sky Ceremony in St. Thomas, Virgin Islands
Not interested in having your toes in the sand during your ceremony?  The Caribbean is full of tropical gardens, private villas and historic churches.  While we can't list every venue in every location, great places to get married in St. Thomas can be found at Blue Venues.
Planning Your Wedding Vacation
Once you decide on the perfect destination to celebrate your wedding, you will need to think about the logistics of getting there, where to stay, and the like.  In many destinations, you can choose between air travel or cruise ship.
Cruise Ship Travel
When travelling via cruise ship, simply book any cruise ship with a port of call in your desired destination and hire a wedding planner.
If you're worried that a Caribbean destination wedding is out of your financial reach, consider getting married in the tropics during the "off-season." In the early summer when U.S. cities are melting, it's actually quite lovely in the islands. Cooler and breezier and gorgeous! Airfare is at its lowest, as are rental car and accommodation rates. It makes for an amazing vacation for you and your guests.
–Sandy Malone, owner of Weddings in Vieques and Sandy Malone Weddings & Events, star of TLC's "Wedding Island"
With a full-service wedding planner, there are no limits to the design and options for your wedding or vow renewal. Every detail can be customized to your specifications.
Staying at Your Destination
If you're staying at the destination, you can book airfare and accommodations directly through the hotels and airlines or through any of the major aggregate sites like Priceline.com.  Many travel agents now specialize in destination wedding travel and planning.
There are many choices for accommodations in most destinations.
Luxury resorts are common in many desired wedding locales. These resorts do include on-site event coordinators, but quite frankly, their role is that of facilities manager that function more as order takers. If you are planning a cookie cutter wedding, then this may suffice for you. But if you are planning to have a unique and memorable experience you should definitely opt for an independent planner.  FOR EXAMPLE: if you want to have other related events that aren't on the hotel property (such as an amazing beach BBQ) a resort planner won't help you.  ANOTHER EXAMPLE: if you don't want a wedding on a resort beach crowded with hotel guests or a reception in a tacky ballroom/conference room.
Budget hotels and bed and breakfasts are usually available if you want an economical option. These hotels may not have an on-site spa (not to worry, most destinations have spa services vendors offering nomadic services and will come to you), or room service available, but their rates offer a great value, and if you picked a fun destination you may not spend that much time at your hotel anyways!
Private villas and condos – check out http://vrbo.com and http://homeaway.com for a list of rentals at your location. When choosing a villa, be sure to choose a villa that allows events and you will have a phenomenal wedding and/or reception venue all in one.  A villa in St. Thomas that blows me away for a wedding and reception is The Wedding House.  I'm sure you can find something similar in whatever destination you choose.
Time Line For Destination Wedding Invitations
Invitation etiquette for destination weddings follows a regular wedding schedule…for the most part.
The reality is people planning a destination wedding are doing so precisely because they don't want to follow tradition.  For cruises you might send out invitations 60-90 days before the wedding.  For non-cruise ship destination weddings, the timeline below is a good guide.
Save the Date             9-12 months out
Your save the date card should only include the location – the city or island.  You may not have many of your details worked out yet – ceremony venue, reception venue, etc.  Because you chose a destination wedding, have fun with the save the date card.
Maybe a picture/postcard of the location.
Order Invitations      6-7 months out
Give yourself at least a month to order/agonize/obsess about your invitations before sending them out.  Some great destination wedding invitations, along with proper wording can be found at Blue Sky Ceremony.
Send Invitations       5-6 months out
Get them out!  While this is a couple months sooner than a traditional wedding, people need to make travel arrangements.
RSVP By                      3 months out
You want an accurate headcount as soon as possible so you can finalize your details.
Planning Your Wedding
So now that we've reviewed getting there and where to stay, let's discuss the fun stuff – your special day.
There are so many elements to consider when planning a wedding celebration and I'm sure you're wondering where to start.
The first step you should take (after you finish reading this guide) is to call or email a wedding planner so that you can schedule a free consultation.
But to give you an idea of what to consider and to get you inspired, read on!
The next 2 steps for planning your big day is to first book your wedding date on your chosen wedding planner's calendar, and second, begin planning the timeline for your day.
Finalizing the timeline, and making sure the details come together seamlessly is the planner's job, but you'll want to decide whether you want a morning, afternoon, or sunset wedding.
For couples arriving via cruise ship, some of the timing will be determined by the time you arrive and depart the port.  All of the dates, ports and times for every cruise line can be found at Cruise Time Tables.
Once you know the where and when, you can begin to create the details of your wedding.  With this comes budgeting and general pricing for services at your destination.
The best way to begin the wedding planning process is from a bird's eye view focusing on these 5 elements:
Wedding Planning Services
Timeline
Flowers, Decor
Cake, Food and Beverage
Photography/Videography
Wedding Planning Services
Wedding planners offer several types of planning services. Some planners have flat rates for basic services and then offer an a la carte menu for all your customizations. That means, you can create the perfect wedding "package" for you.
Others sell their services in packages.  You can get a simple package with a minister and some flowers.  Or you can get a deluxe package for an entire day of photography, transportation, videography, cake, reception, etc.  Those packages are typically set but allow choices for each line item, i.e. a choice of bouquet or cake flavors.
Most Destination Wedding Planner's Basic Package Include:
Extensive and personalized phone and email consultation
Officiant (Civil or Non-denominational Minister to perform your ceremony)
Customized Ceremony
Wedding Coordinator (for 1 hour at the ceremony)
Filing of the Legal Paperwork
Two Witnesses (if needed)
2 Certified Copies of Marriage license
Picking the Date for Your Destination Wedding
3 things to consider:  weather, on/off-season, holidays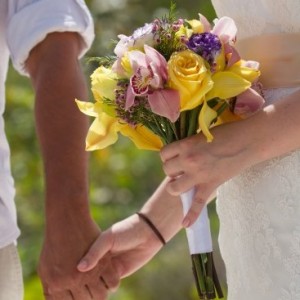 Weather
check out Weather Underground which gives historical weather records by zip code.  You should also be aware of seasonal weather patterns.  In the Caribbean, for example, the months of July, August and September are the height of hurricane season.  So while there is a remote possibility of a storm, flights and accommodations are cheaper!
On/Off Season
destination spots located in vacation locations usually have a high season and a low season.  Low season usually means cheaper flights, hotels, etc.  High season costs more, but it is typically the most desirable time to be at the destination.
In the Caribbean, high season is between January and May.  Low season is between September and December.
Holidays
some of the popular dates for weddings are around holidays.  Holidays mean time off from work so family and friends are more likely to travel and often holidays have a sentimental feel for couples.
And the holidays are (every island and country has its own holidays but many follow the major US holidays!)…
2015/16 Holiday Schedule

Emancipation Day
July 3, 2015
Independence Day
July 4, 2015
Labor Day
September 1, 2015
Columbus Day
October 14, 2015
Veterans Day
November 11, 2015
Thanksgiving Day
November 28, 2015
Thanksgiving Friday
November 29, 2015
Christmas Eve
December 24, 2015
Christmas Day
December 25, 2015
New Year's Day
January 1, 2016
Martin Luther King Day
January 18, 2016
Valentine's Day
February 14, 2016
Presidents Day
February 15, 2016
Holy Thursday
March 24, 2016
Good Friday
March 25, 2016
Easter Sunday
April 27, 2016
Cinco de Mayo
May 5, 2016
Mother's Day
May 8, 2016
Memorial Day
May 30, 2016
Father's Day
June 19, 2016
Labor DayColumbus DayVeteran's DayThanksgiving DayChristmas EveChristmasNew Years Eve
September 5, 2016October 10, 2016November 11, 2016November 24, 2016December 24, 2016December 25, 2016December 31, 2016
Choosing a Time of Day for Your Wedding
The best times for beach weddings on St. Thomas are between 8am and 10am and after 4pm.  Not only do you avoid the heat of the day, but also the crowds of fellow travelers. During the mid-afternoon hours the sun is hottest and brightest so you will be squinting in all the photos.  Or you might melt. 🙂
If your schedule is open all day and you are trying to decide between a morning and afternoon ceremony, here is my take: Morning weddings are glorious.  Imagine starting a day where the first order of business is to solemnize your love.  And sunsets are divine.  When planning a sunset ceremony, plan to start about 11/2 hours before sunset, so that you have plenty of time for pictures.
Ultimately, the decision comes down to whether you want the bright blue water of a morning wedding; the deep, rich blue water of an afternoon wedding; or the silvery sparkle on the water of a sunset wedding in the background of your photographs.
The next thing to think about is the wedding day itself. If you are planning a cruise ship wedding, much of this will already be decided for you by the arrival and departure times of the ship. When arriving via cruise ship, try to shoot for the morning or late afternoon.
A typical schedule for a morning wedding:
8:30 am – pick up at cruise ship
9:00 am – appear at local court to pick up marriage license
10:30 am – get married
11:00 am – cake cutting and photography
12:00 pm – beach bbq
4:00 pm – back to the ship
I love morning weddings.  The temperature is a little cooler, the sky is so blue and you have the rest of the day to relax on the beach or go adventuring.-Amber with Blue Sky Ceremony
If you are staying on island, you have the option to wed at any time of day (or night).
Customizing Your Wedding
I broke down the details of your wedding day into the following categories:
Photography/Videography
Flowers
Décor and Styling
Hair and Makeup
Music
Cake and Champagne
Transportation
Wedding Favors
The Wedding Ceremony
Destination Wedding Photography & Videography
One of the biggest decisions to make after choosing your location is choosing a photographer and/or videographer.  After the cost of the reception and venue (if you go with a villa), they are often the single biggest line item on your budget.
First, I must mention a mistake I see numerous brides make.  They have a family or friend take pictures.  Yikes.  Bad idea.
Why is this a bad idea?  1. They aren't professionals.  2.  Even if they are professionals they have limited experience taking photos on a beach in the Caribbean.  3.  They will be too busy taking pictures to enjoy the wedding and celebration!
You're photographer friend from NYC may well indeed be fantastic and talented, but the light and conditions in the Caribbean can be harsh, and nobody knows how to get the best shots in these conditions like a professional photographer who lives and works in the islands.

Local photographers know exact timing of sunsets, where to get the best 'first look' photos, and the  best angles to take advantage of those spectacular island sunsets. Photography can be pricey, but it's well worth it to capture your special day forever.

-Luise from NILA Destinations in Turks & Caicos
Bottom Line – this is one of the most momentous days in your life.  You are going to spend a lot of time and money planning your wedding.  Please hire a professional to memorialize your wedding day.
So how do you choose a photographer that will shoot perfect photos for your day?  Your wedding planner will have several photographers they work with to recommend.
Be sure to look at each photographer's gallery.  They all have different styles, so find one that takes pictures matching your style, personality and budget.
Generally, photographer starts at about $400 per hour and can go as high as $600 per hour.  A photography package will include a combination of traditional (posed) images as well as photo-journalistic (details and moments) images – about 100-150 images can be expected per hour.
One hour is usually enough to cover a few photos before the ceremony (at the ceremony location), the ceremony itself, group photos and portraits of the couple afterwards.
If you have a large group or would like multiple locations or simply more coverage for the day, consider adding additional hours of service.
Most photography packages include edited full resolution images on DVD or digital download, free consultation before wedding, and delivery of photos within 30 – 45 days (often less). In addition, all photography packages should include ownership of the images which will allow you to have prints and albums made at home or at the studio of your choice or via the online gallery provided.
Videography packages usually start around $500 for 1 hour.  Videography packages include an edited fine art wedding film as well as raw footage available upon request, free consultation before wedding, and delivery within 30-45 days (often less).
Depending on the location, other photography/videogrpahy options include a Photo Booth, Slow Motion Video Photo Booth or Flip Book Photography Packages.
Caribbean and Island Flowers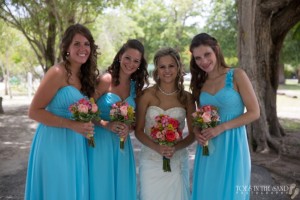 A Bride's most important accessory is her bouquet. Bridal bouquets are available in several sizes and include the ribbon color of your choice and matching boutonniere. Options for bouquets, corsages, and other floral arrangements are below.
The standard Bridal Bouquet is a generous 10″ hand tied or cascading bouquet with the ribbon color of your choice. This bouquet and the smaller 6″ Mini (or Bridesmaid's) Bouquet is available in white, pastels, tropical bright or the color scheme of your choosing. If want something more simple, consider a dressed stem, which is a gathering of 2 or 3 flowers.
If you have a bouquet in mind, send a picture to your planner.
Don't forget additional flowers such as hair flowers for you and your attendants, corsages and boutonnieres for parents and other honored guests, petals for your flower girl, and decorative floral accents.
A Few Wedding Flowers Options
| | | | |
| --- | --- | --- | --- |
| Orchid Halo | | Flower Girl Petal Basket | |
| Orchid Anklet | | Petal Basket w/ Keepsake Nautilus | |
| Hair Flower | | Sea Shell Ring Bearer Pillow | |
| Hair Comb | | | |
| Corsage(Pin or Wrist) | | | |
| Boutonniere | | | |
| Pomander | | | |
Décor: Aisles, Canopies, and Other Decorative Accents
Now it is time to create the scene.
Aisles, canopies and chairs make a wonderful decorative feature for weddings ceremonies of all types and are the perfect way to enhance your wedding ceremony and provide a beautiful backdrop for photographs.  Set the scene on your wedding day with a gorgeous arbor or canopy, decorated aisle or chairs for your guests.
Ceremony Decorations Options:
Working with your wedding planner, you need to determine your theme and décor for your wedding ceremony.
A destination wedding ceremony is all about tropical and/or nautical inspiration.
Each Caribbean destination offers unique local floral/fauna options to accent your overall décor.
Check out some ideas for putting it all together:
Aisles
Chair Enhancements
  Petal Aisle (light)
  Sashes
  Petal Aisle (heavy with runner)
  Starfish Row Ends
  Orchids & Driftwood
  Fan Palms
  Conch Shell Aisle
  Starfish w/ Fan Palm Row Ends
  Conch Shells & Palm Aisle
  Floral Arrangement Row Ends
  Conch & Lilies/Tropical Flowers
Bamboo Canopies
  Tropical Flowers Aisle
  4 Post Bamboo Canopy
  Coconut, Palm & Lilies
  2 Post Canopy Backdrop
Aisle Enhancements
  Bamboo Arbor
  Floral Tikis
  + White Fabric
  Floral Tikis w/ Palms
  + Colored Fabric
  Burlap Aisle Runner
  + Seashell Garland
  Bamboo Aisle Runner
  + Capiz Shells or Crystal Curtain
Altars
  + Orchids and Crystal Curtain
– Add an altar to any aisle or choose an altar by itself for a simplified look.
  + 2 Floral Corner Arrangements
  + 2 Floral Tie Backs
  Conch Shells & Palm Altar
  + Center Floral Spray
  Conch & Lilies/Tropical Flowers

Handheld Canopy/Chuppah
  Tropical Flowers Altar
  Handheld Canopy (white lace)
  Coconut, Palm & Lilies Altar
  + Colored Fabric
Chairs
  + Seashell garland
  White Folding
Palm Canopies
  Chiavari
  2 Post Palm Arch
 
 
 
Coconut, Palm & Lilies Aisle
Orchids & Driftwood Aisle
Conch Shells & Palm Altar
 
 
 
Tropical Flowers Aisle
Tropical Flowers Altar
Palm Canopy w/ Flowers x2
 
 
 
White Folding Chairs & Fan Palm Row Ends
Conch Shells & Palms Aisle
Conch Shell Aisle with Aisle Runner
Hair, Makeup & Salon Services
If you're planning to spend the day at the beach after your vows you might want to skip the fuss and apply some bronzer and let windswept locks complete your look.  But if glam is the tone for the day, have your planner provide trusted hair and makeup artists to work their magic.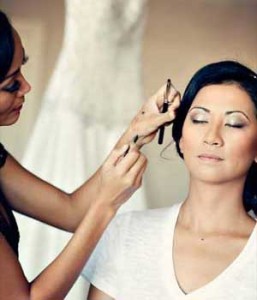 If you are staying at a resort, you can stay with the in-house salon.  But if you are staying at a villa you should not have a problem finding a stylist to come to you for the same price.
A good rule of thumb is to assume that each service selected will take an hour.  Your services will be booked so that everything is complete 1 hour before your wedding ceremony.  That will allow enough time to put your dress on and travel to the ceremony without being rushed.
If you are on a Cruise Ship and having a morning wedding, I recommend having your hair and makeup done aboard the ship. If you are having an afternoon wedding, you can have your hair and makeup done in the salon on island (there is a suite available for you to change into your dress).
Interested in a "Pamper Party" or Private Yoga Instruction? Enjoy a day with the girls with in salon or on site nail, facial, and massage services as well as private yoga classes. Your planner or resort will have details.
Hair, Makeup & Salon Services at Most Destinations
| | | |
| --- | --- | --- |
| Hair | Make Up | |
| Bridal Up-do | Traditional Bridal Makeup | |
| Bridal Down Style | Airbrush Bridal Makeup | |
| Bridal Party Hair Styling | Traditional Bridal Party Makeup | |
| | Airbrush Bridal Party Makeup | |
|  Additional Services: | Individual Eyelash Application (Temporary) | |
|  Tattoo Cover Up | Strip Eyelash Application (Temporary) | |
Tropical Wedding Music
There are several options available for music as you walk down the aisle. My favorite is a live steel drum player. Nothing says an island wedding like the sound of steel drums.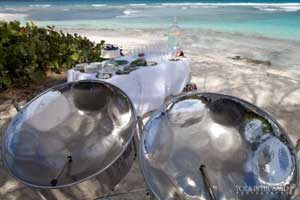 If you want something a little more traditional, you might consider a violinist of harpist for your ceremony. For something more contemporary, a guitarist lends a nice touch. If you have a special song, most musicians would be happy to learn it for you.
DJs service is usually available at any venue whether the beach, private villa or resort.
On a budget?  Pre-recorded steel pan wedding music is available online or you can bring your own music on an iPod or MP3 player.
If you opt to bring your own music, simply create a playlist of several songs to be played before the ceremony, a song to walk down the aisle to, a song for after the ceremony and then a few more songs to play while you are taking pictures, cutting cake, and reveling in newly wedded bliss.
Wedding Cake & Sweet Treats
Celebrate your first moments as husband and wife on the beach immediately following your ceremony with cake and champagne.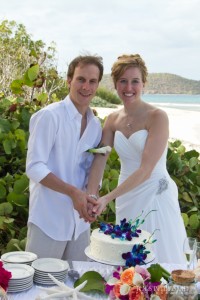 Whether it's just the two of you or a large group, a wedding cake is a perfectly sweet end to a lovely ceremony. Wedding cakes are available in a variety of sizes and flavors.
The standard wedding cake comes with white butter-cream frosting with your choice of flavor and filling. Flowers to match your bouquet make a perfect cake topper or you may bring a cake topper of your own.
Most bake shops welcome special requests!  The bakery is usually happy to replicate a design or even use your grandmother's recipe.
Not in the mood for cake? Think outside the cake-box. Cupcakes, locally made desserts (Caribbean rum balls, tarts, etc.) decorated sugar cookies, or chocolate sea shells are popular options.
Standard Wedding Cake Sizes and Servings:
| | | | |
| --- | --- | --- | --- |
| Cake Size | # Servings |   |   |
| 6" round | 6 | | |
| 8" round | 12 | | |
| 10" round | 20 | | |
| 12" round | 30 | | |
| Tiny 3 Tier (no fillings) (2″ 4″ and 6″) round | 2-4 | | |
| Mini 2 Tier (4″ and 6″) round | 8-10 | | |
| Small 2 Tier (6″ and 8″) round | up to 25 | | |
| Medium 2 Tier (6″ and 10″) round | up to 30 | | |
| 1 Tier Heart (5″) | up to 6 | | |
| 1 Tier Heart (9″) | up to 12 | | |
| 2 Tier Heart (3″ and 9″) | up to 15 | | |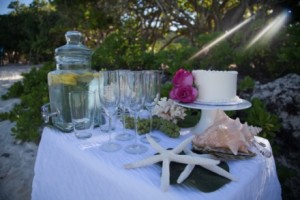 Champagne (or non-alcoholic sparkling juice or cider) is a wedding traditional that shouldn't be forsaken here in paradise!  Crisp, cool champagne is a great way to celebrate your recent nuptials.
Popping the cork, pouring the champagne and clinking the glasses also makes for great photos!
An obvious point about having a beach wedding is that the Caribbean sun can get a little hot!  So make sure you provide your guests with a way to cool off.
One major feature of your beach wedding will be the ever present Mr. Sun. As the day heats up have your guests served water infused with cucumber, mint, lemons and other fruits for a decorative and tasty cooling drink. Kick it up a notch by using fruits that match your wedding colors.
-Dionne from Bridal Dreams in Montego Bay, Jamaica

(For additional ideas to keep your guests cool check out Dionne's post "Beachy Keen – 5 tips for keeping your guests cool and refreshed at your beach wedding.")
Transportation
Transportation is an often overlooked part of planning your destination wedding.  Each location has its own quirks.
Rental Cars:
Should you rent a car?  In various locations in the Caribbean, cars drive on the left.  And getting around can be hair-raising for some with the hills, narrow roads and crazy local drivers.
If you are staying at a villa or condo, you will most likely want to rent a car at least for a few days and have the freedom to travel as you please and explore the island.
If you are staying at a resort hotel, and planning to spend most of your time on the property, taxis might be the best mode of transportation for you.
Taxi Service:
Taxis can be convenient and stress free…but they can also begin to get costly.  They also might limit your options – some taxis limit themselves to only specific areas of a destination.
If you family and friends are all staying at the destination, it might be a wise gesture to provide taxi service for everyone to and from the ceremony/reception.
Favors, Gifts & Welcome Bags
Try to work with local vendors and suppliers as much as possible. Most of the time, the items that you seek for your welcome bags and such can be purchased at your destination. Mailing EVERYTHING costs a fortune.

-Sandy Malone, owner of Weddings in Vieques and Sandy Malone Weddings & Events, star of TLC's "Wedding Island"
Wedding Favors:
Wedding favors are small gifts given as a gesture of appreciation or gratitude to guests from the Bride and Groom at the wedding ceremony or reception. These gift vary in price and durability in accordance with the desire and budget of the Bridal Couple.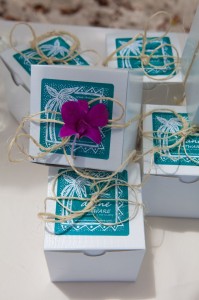 The most popular favors are a personalized (but useful) mementos, local products, handmade items by crafty brides, and sweet treats for guests to enjoy once they return to their hotel room or cruise ship.
Welcome Bags:
A welcome bag is a wonderful way to show your appreciation to your guests and to make them feel at home. Since bags or baskets are awkward to attempt to pack in suitcases, your planner can assemble welcome bags using paper gift bags or personalized totes. You might want to include free destination guide publications and free maps of the city/country/island. Don't forget to include a welcome message to your guests including important phone numbers, the schedule of events and postcards.
From there, the choice is yours. Snacks, rum cakes, sunblock, bug spray and other toiletries, beach towels, and more make great additions to your welcome bag.
Other Gifts:
Wedding favors and welcome bags tend to be uniform items that can apply to all guests, but you will certainly want to give gifts to special guests such as parents, grandparents, bridesmaids and groomsmen. I love the idea of giving them something before the wedding such as a sea salt scrub for the ladies; a gorgeous broach that matches your theme for the moms to the wedding; a locally made doll for the flower girl; or engraved flasks for the men.
Local Products for Your Favors, Gifts & Welcome Bags:
-Caribbean Rum Balls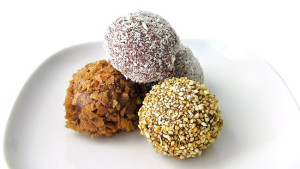 -Local sauces
-Local baked goods
-Locally made drinks
-Handmade jewelry – a great island-themed choice for jewelry for the girls and women on your guest list are barefoot sandles from Bec's Beach Feet.
Destination Wedding Ceremony Wording
Your wedding ceremony wording should be yours to design.  Most planners will have a favorite officiant or 2 they like to work with.  Each officiant will have a "standard" Civil or Religious ceremony they use – so get your hands on a copy.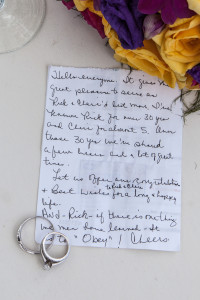 You can make it your own by adding poems, prayers, readings (for readings to add to your ceremony check out Wedding Ceremony Readings for a Perfect Day) or other special ceremony elements such as unity ceremonies.  Alternatively, most officiants won't mind if you design your ceremony from scratch from start to finish. Just be sure to send it to the planner or officiant in advance so that the officiant can practice it.  Before designing your own you might want to read this: Destination Wedding Script.
My favorite way to personalize and beautify a ceremony is to add a unity ceremony.  Here in the Caribbean, don't waste your money on a cookie-cutter unity ceremony sold in countless online stores.  Carnival Palms offers authentic, original and stunning unity ceremony kits.
Unity Ceremony Options:
Unity Ceremonies are a popular addition to wedding ceremonies regardless of the size. It is a powerful way to symbolize the love and commitment to one another that a couple shares and also a way for guests to participate in your wedding ceremony.  In fact, it is not uncommon to see more than one unity ceremony performed.
Regardless of whether the unity ceremony incorporates only the bride and groom, or all in attendance the ceremony is a physical act representative of the two lives becoming one, two families acknowledging they are now linked, and the community of love and support of the couple.
A unity candle is the most popular option for indoor events. Sand ceremonies and Shell ceremonies are also frequently chosen to further symbolize a love union.
Unity Ceremony Options:
Sand Ceremony
A sand cere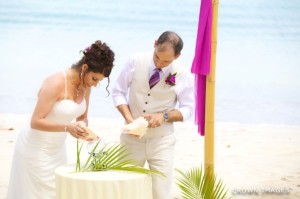 mony symbolizes the combining of two lives and two families by the pouring of sand from individual containers into one. This unity ceremony can be customized to include children and other family members as well.
If you are planning to layer colored sand in your sand ceremony, please purchase a kit with a stopper so that it can be sealed and the sand layers don't get jostled in transit.
A beautiful and traditional way to do a sand ceremony in the Caribbean is with a nautilus shell sand ceremony from Carnival Palms.
Shell Ceremony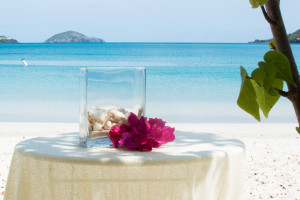 A shell ceremony is a wonderful way to include all of your guests in your wedding. Shells are distributed to each guest. Each shell represents everyone's unique individuality and presence at your wedding. Guests are directed to take a moment and make a wish or blessing for happiness and good will for the future of your marriage.
The shells make a lovely keepsake and reminder or your special day. Alternatively, you can create a lovely photo opportunity and throw the shells into ocean.
Rose/Flower Ceremony
A Rose Ceremony is a simple unity ceremony where the bride and groom exchange roses which are a symbol of love. In other variations of this ceremony the Bride and Groom honor their mothers by presenting roses to them or family members present roses to the bride and groom to welcome them to the family. Other flowers can be used instead of roses.
Wine Ceremony (or Rum Ceremony)
A good wine, like a good marriage, is the result of many years of hard work. There is the unhurried nurturing of the vine and tender care of the grape; thoughtful mix of ingredients and patient fermenting – yielding the unique flavors of each passing year.
The wine ceremony is symbolic that the partnership of marriage not only doubles the sweetness of life, but also lightens the burden of its bitterness by half. The Bride and Groom each pour a wine for each other into a shared cup from which they both drink.
Breaking Bread Ceremony
The Breaking of Bread Ceremony is a lovely unity ceremony that is rooted in ancient traditions. It involves the eating of bread and the drinking of wine. The bread represents the hope that you will never experience hunger or need. The wine represents hope that you will never thirst and that you will have a life of good health and cheer and share in the company of many good friends.
Parents, friends and family are easily incorporated into this ceremony. 
Glass Fire Unity Sculpture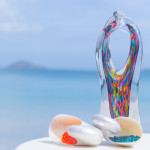 For sure, one of the most unique and beautiful ways to symbolize your marriage.  You combine your chosen colors of glass crystals.  The crystals are then sent to a kiln and blown into a sculpture.
Salt Covenant
During ancient times, agreements and promises were sealed by a salt covenant. Each person would take a pinch of salt from their pouch and place it in the pouch of the other. This agreement could not be broken unless an individual could retrieve their own grains of salt.  Traditionally, the Bride and Groom pass a handful of salt between one another three times. The Bride then does the same with the Groom's family symbolizing her blending with her new family. I think a modern take where the Groom does the same with the Bride's family is a lovely idea.
Jumping the Broom
The "Jumping the Broom" is a ceremony in which the bride and groom, signify their entrance into a new life and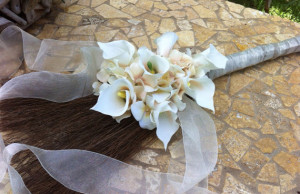 their creation of a new family by symbolically "sweeping away" their former single lives, former problems and concerns, and jumping over the broom to enter upon a new adventure as wife and husband.
At the conclusion of the ceremony, one of the attendants produces the broom or a special person from the audience brings the broom and places it in the path of the wedding couple. They then jump over the broom after the kiss.
Marriage License
Puerto Rico and the Virgin Islands are US Territories so you don't need a passport and the marriage license process is easy.  You leave the island with a valid license that recognized in every state in the US.
The other Caribbean locations (Mexico, Central America, Bahamas, etc.) require a valid US passport for travel and do require an additional step to have your marriage recognized.  An apostille is a certified document from the jurisdiction where you get married which is then used by your state to recognize your marriage.  Your wedding planner will take care of this!
How the process works…
In general, you will need to fill out an application for a marriage license from the local court.  This is usually done at least 3-4 weeks before you arrive in paradise.  When you arrive at your destination, you will need to present yourself before the local court to be sworn in and pick up your marriage license.
After the ceremony, the judge/minister/officiant will sign the documents and typically file them for you and mail you certified copies.
(For the Virgin Islands, check out: Getting married in the Virgin Islands
Same-sex Weddings
The laws are ever changing here in the Caribbean.  Check out Caribbean Same-Sex Destination Weddings Infographic for some locations that recognize and perform legal marriages for same-sex couples.  Recent additions to islands performing legal marriages are Puerto Rico and the Virgin Islands.
Wedding Insurance:
For unexpected events such as trip cancellation, weather, or general wedding mishaps, consider wedding insurance for your big day.  Travelers provides coverage in the Caribbean and they can be reached at 1-888-342-5977, or see their website.
If you don't find the answers you are looking for in this guide, please do not hesitate to call me at 340-201-6069. Often, I am out of the office – making magic happen on a beach somewhere – and so the best way to reach me is at [email protected].
Michael Motylinski
St. Thomas Wedding Officiant
9715 Estate Thomas PMB #109
St. Thomas, VI 00802
340-201-6069