Look: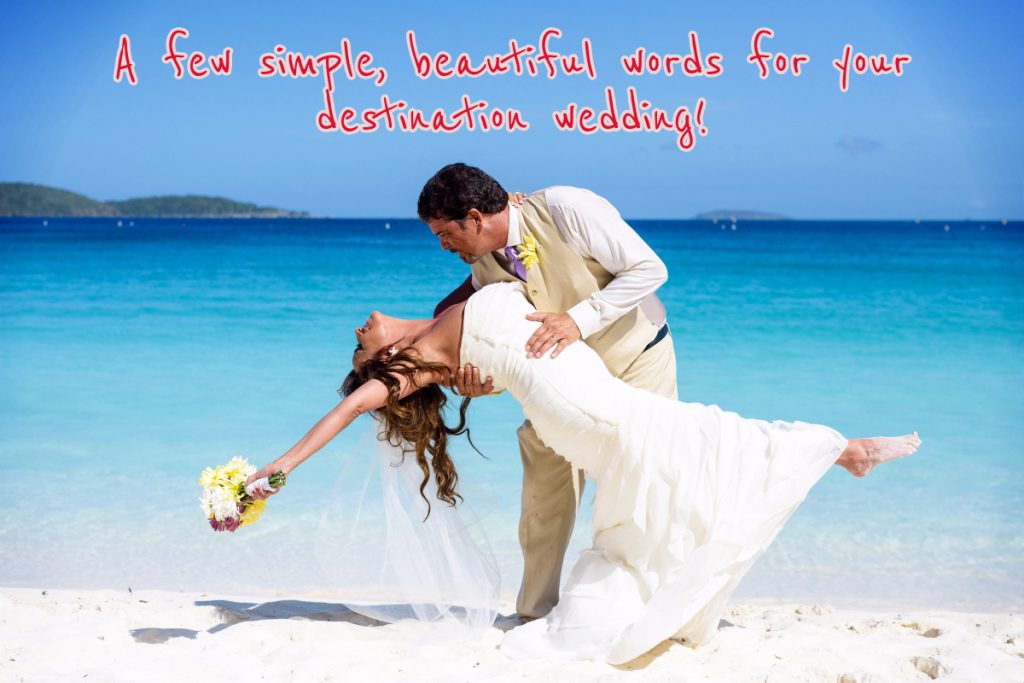 Picking a beautiful destination is great.
Having a beautiful ceremony is great.
When you can have BOTH?
That's when you get to brag to all your friends…
…because you'll actually have the perfect wedding.
And today I have something for you straight from your favorite fairy tale:
The perfect destination wedding ceremony script.
(And if you are looking for traditional wedding vows, check out this Guide to Wedding Vows.)
If you want to stop reading now and just print the script off, click here:
Destination Wedding Ceremony Script
Feel free to modify any or all of it.
If you want to see how the wedding ceremony is constructed, I break it down piece by piece below:
Anatomy of a Destination Wedding Script
This is what a beach wedding looks like when you break it down into sections:
Processional:
The bride walks down a palm-frond aisle to the sounds of steel pan music. The groom is standing anxiously at the water's edge.
If the bride is accompanied by her father/mother/brother/friend, the officiant will ask:
"Who gives this woman to wed this man?"
With a response of "her mother and I" or "I do"
The escort then hugs/kisses the bride and hands her to the groom.
Opening/Welcoming Remarks:
This is usually left to the officiant.
But…
…this is a great spot to add a special thank you to those that traveled a great distance or endured some hardship in making it to your destination wedding.
And…
Opening remarks can include references to loved ones that could not be present whether through death or unavailability.
Something along the lines of:
"Good morning, on behalf of _____ and _____ I would like to begin by thanking everyone for being here in this amazing island setting. The fact that you all traveled such a great distance to be here is a testament to the love that you have for _____ and _____. It is also a testament to the support you have for this union for which they are about to enter into.

A special acknowledgment must also be made to those friends and family members who were unable to attend, or have passed on, but whose memories remains alive and strong in all your hearts.

We are gathered here in this wonderful paradise to celebrate one of life's most important relationships. The joining of a man and woman in marriage.

Today, _____ and _____ have chosen to enter into this union and I ask them both to search their hearts for the wisdom of this covenant. It is a covenant which has from ancient times been expressed with those ideas that come from the heart.

This ceremony is a public affirmation of that bond of love they share and as their dearest family and friends, it is our honor and privilege to stand witness to this event."
Reading or Song (Optional)
If you have family and friends joining you for your destination wedding, you should consider asking 1 or 2 people to perform a reading.
This is the best opportunity to add a personal touch.
Religious?
Funny/Irreverent?
Poetic?
Maybe a friend or family member of the couple will play guitar and sing a love song.
A no less emotional option is to read a book or bible passage or poem from a favorite author or poet.
The Ceremony
This is where things heat up!
The meat of the ceremony is where the officiant will explain commitment, love and marriage.
This is a great way to personalize your ceremony.
Ask yourself the following questions:
What does marriage mean to you? OR What are you committing to on your wedding day?
Here is what it looks like:
"Since the laws of this community governing marriages has been met, the joining of you two shall now take place. Before your vows are taken, I do have a responsibility to remind both of you of the incredible relationship you are about to embark on.

The heart felt vows you will make to one another include irrevocable love, fidelity and cooperation through life. And life will throw you bumps along the way, but I urge you both to remember your commitments from this day. And I urge you to stay true to the vows and the love for which you are now expressing on this day.

Because marriage is a commitment, it's a commitment to love and patience. It's a commitment to the best that two people can bring out in each other. Marriage offers opportunities for sharing and growth that no other relationship can ever equal. It is a spiritual and emotional joining that is promised for a lifetime.

A marriage binds two people in a union that includes all the most fulfilling relationships that humankind knows. A wife and a husband are each other's best friend, confidant, lover, teacher, listener and counselor. Your marriage will deepen and enrich every facet of your lives.

I promise you this, your happiness will now be fuller. Your memories will now be fresher. And your commitments will be ever stronger.

When two people pledge to love and care for each other in marriage, they create a spirit that is unique unto themselves which will bind them closer than any spoken or written word. _____ and _____ marriage is a promise, a potential, made in the hearts of two people like yourselves, which takes a lifetime to fulfill."
Declaration of Intent
Ok, enough talk from the officiant already.
At this stage of the ceremony, you will declare your intentions to enter into marriage.
It can be as simple as:
"Do you ____ have this woman to be your wedded wife?"
Or as involved as:
"_____ and ______, do you present yourselves willingly and of your own accord, in front of family and friends as your witnesses, to be joined in marriage?"
"Yes, we do"
"Do you both promise to care for each other in both the joys but also the difficulties of life, and share the responsibility for growth and passion in your life together?"
"Yes, we do"
OR
"_____, do you take ______ to be your Wife? Do you promise to love, honor, cherish and protect her, forsaking all others and being faithful to her alone?"
Destination Wedding Vows
To get your money's worth, this is the best place for you to add a personal and intimate touch to your wedding ceremony.
Many officiants have the couples recite vows the old-fashioned way. But afterward, you can add your own vows or a statement of love.
Unless the couple asks for something less traditional, for vows use:
"I, _____, take you, _____, to be my wedded wife. To have and to hold from this day forward. For better or for worse. For richer or for poorer, in sickness and in health. To love and to cherish. Till death do us part."
The most powerful and emotional part of the ceremony is when the couple proclaims their love for each other.
How about adding something simple like:
"You are the best thing that ever happened to me. I will love you forever."
No need to agonize about writing vows like, "I promise to cook you dinner and clean up your dirty socks. And always root for your football team." You don't have to be witty or funny or a Nobel laureate poet. Just something sweet from the heart.
Exchange of Rings
For a beach wedding let your officiant or minister hold both rings so there is not a mishap. What a disaster if everyone ends up on their hands and knees hunting for the rings in the sand!
While holding the rings in an outstretched hand the officiant can say:
"The ring is a symbol of eternity and the unbroken circle of love. Love freely given has no beginning and no end, but your rings did have a beginning.

The metal and stones were formed a long time ago deep within the earth. Eventually, a series of lucky events caused them to rise to the surface, where someone dug them up. Something beautiful was made from the raw and imperfect elements.

Today you have chosen to exchange these beautifully crafted elements as a sign of your love for each other and as a sign of your love for each other.

Your love may have come from humble beginnings, but through a combination of chance and effort, it has been shaped into something extraordinary. Your love, like those raw elements, have now been shaped into something beautiful."
Followed by:
"____ please place the ring upon _____'s finger and repeat after me: With this ring, I thee wed. I pledge myself to you. May this ring forever be a symbol, of my love and faithfulness."
And then:
"Your two lives are now joined in one unbroken circle. As you look at these rings over the years, I hope you remember that today you've created something precious. And just as you will protect these rings, I am confident you will also protect this union. May you two continue to find and explore the love for which all men and women long for. And may these rings symbolize the spirit of the undying love in the hearts of both of you."
Destination Wedding Unity Ceremonies
Unity ceremonies are a lovely way to further commemorate the joining of you in marriage. The number of options for a unity ceremony is limited by your imagination.
A few funky and unique unity ceremony ideas:
Beer unity ceremony, Painting unity ceremony, or Colored glass ceremony
The Sand ceremony is one of the prettiest and simplest unity ceremonies to add to your destination wedding.
_____ and _____, you have just given and received rings as a sign of your life-long love. Your vows and rings symbolize your commitment to one another throughout your lives. Today, this relationship is further symbolized through the pouring of these two individual containers of sand one, representing you ____ and all that you were, all that you are, and all that you will ever be, and the other representing you, ____, and all that you were and all that you are, and all that you will ever be.

(While pouring the sand) As these two containers of sand are poured into the third container, the individual containers of sand will no longer exist, but will be joined together as one. Just as these grains of sand can never be separated and poured again into the individual containers, so will your marriage be.
A sand ceremony is a great way to incorporate children if applicable. This can be done by modifying the words to include the kids and by adding additional containers of sand.
Closing Remarks
You should close the ceremony with words of encouragement and excitement. By now, you have done all the heavy lifting.
Now is the opportunity to relax and soak in the wonderful surroundings of a moment that will last forever in your hearts and minds.
Here is a great ending to a destination wedding:
"Before we leave the hot Caribbean sun, and before you go forth as husband and wife, I would ask you to do one last thing for me. On a day like today, where there is so much excitement and emotion with all the details and all the planning and the sincere hope that the day will go perfect, I don't want the most important moment of this day to be fleeting. When you wake up tomorrow, it will all be over. But right now, at this very moment, with your toes in the sand, the perfect blue water, the clear sky, in the presence of your family and friends, I want you to take a few seconds to look into each other's eyes and think about the happiness you're feeling. Let that feeling consume your heart and your thoughts.

Now imagine 20 years have gone by. Will you remember this moment? Will you be able to feel the tropical breeze? Remember the sound of the waves and the sweet smell of salt in the air? Will you feel that leap in your heart thinking back to this moment?

I am confident that your future together will always allow you to return to this moment. And it is with that confidence that I declare:

In as much as you ____ and you ____ have announced the truths already written in your hearts, by the power vested in me by the Territory of the United State Virgin Islands, I now pronounce you husband and wife.

Please kiss your bride!"
Announcement
Make sure to end your ceremony with an enthusiastic and grand Announcement. If you brought family or friends to the wedding, make sure they feel the excitement and give it the proper ovation. 🙂
"Everyone please join me in welcoming for the first time as husband and wife, _____________!"
For more ideas and to learn about having an amazing destination dream wedding in paradise drop your email below: