Table of Contents
If you want a beach ceremony I recommend either a morning or sunset ceremony.   The tropical St. Thomas sun can get a little hot during the day and also the beaches tend to get a little crowded between 12 pm and 3 pm.
(You may notice I don't include Secret Harbour Beach as one of my favorites.  It's not for lack of love or affection.  If this article were "10 Amazing Wedding Venues" it would be #10.  But I did write an entire article on the topic – Are Secret Harbour Weddings a Good Idea?.)
Choose Your St. Thomas Beach Wedding Venue
1. Magens Bay Beach
My Favorite Beach Wedding Location?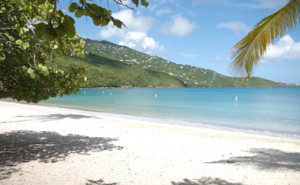 Nestled on the north side of St. Thomas, Magens Bay Beach boasts almost a mile of beautiful white sand.
Supposedly it was once ranked as one of National Geographic's 10 most beautiful beaches in the world.  (While it may be true it was ranked that high once upon a time, I doubt it would make the list these days.)
But please, don't doubt that Magens is a gorgeous and perfect place to have your wedding ceremony.  And it's probably one of the easiest places too.
The water is usually like glass so the tiny waves rolling to shore are the perfect backdrop to your wedding.  It is often calm enough for the two of you to wade into the water and stand knee-deep in the clear blue water while saying your vows.
We usually head towards the left side where there are few folks.
If you have a morning ceremony, Magens Bay is the perfect beach to spend the day after your wedding.  There is a beach bar, gift shop, beach chairs, and water sports shack.
There are also restrooms and changing rooms available if you need to freshen up before the ceremony or for change into your bathing suits afterward.
Sunset is another lovely time of day at Magens.  Most people have left the beach and the temperature has cooled.
Aside from the sand and sea, just off the beach is a coconut grove that's recovering from the hurricanes in 2017.
Also, if the mood hits you, there's a nature trail if you want to get some unique photographs.  It doesn't always have to be about the beach!
Near the entrance to Magens is an active taxi stand.  There's always a taxi ready to take you back to your hotel, villa, or cruise ship.
So whether you want a morning, afternoon, or sunset wedding, one of my first recommendations to couples is Magens Bay Beach.
There is a $150 site fee charged by the local park system that maintains Magens.  There is also a $5/person entrance fee for guests.
They collect the site fee and admission fee in cash when you enter the park.
2. Lindquist Beach (aka "Smith Bay Park") 
The Most Beautiful Beach on St. Thomas?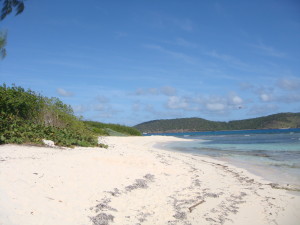 For my money, the most beautiful beach on St. Thomas is Lindquist Beach.
Lindquist is less than half the size of Magens, but it is not wanting for super fine white sand and crystal clear water.  One of my favorite spots for ceremonies is on a tiny point on the far left side of the beach.
The views from Lindquist are spectacular.  Jost Van Dyke and Tortola of the British Virgin Islands as a backdrop for wedding photographs.
The water at Lindquist is a sparkling blue and often produces the best wedding photographs.
Lindquist Beach is a less-traveled beach, but because it is small, sometimes it can feel crowded with only a few people on the beach.
The downside to Lindquist is the lack of amenities.  There is a bathroom.  And that's it.
So if you plan on spending the day at the beach after your wedding, bring food, water, towels, sunscreen, etc.
I recommend Lindquist Beach for morning and afternoon weddings.  There is no view of the sunset from this beach as the sun sets over the hills.  But make no mistake, Lindquist is the most beautiful beach in St. Thomas.
Lindquist is also maintained by the local park system and charges a $150 site fee for weddings, a $100 site fee for vow renewals, and $5/person admission fee for guests.
Lindquist also has 2 pavilions to rent.  I usually only recommend renting one if you are planning on having a beach reception.  They charge a $100 rental fee.
3. Sapphire Beach & Pretty Klip Point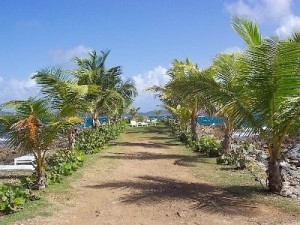 What can you say about Sapphire that I can't say for most of the beaches on St. Thomas?
Not much.
It has beautiful, fine-grain sand, vibrant blue waters, and towering palms that sway in the breeze.
On the far left of the beach are picturesque sea grape trees where we can tuck away for a quiet ceremony.
If you don't want your toes in the sand but still want the views of sparkling blue water and small islands in the distance, I recommend having your wedding on the Pretty Klip Point.
This small strip of land (apparently also known as a "jetty") reaches out into the ocean.
Your ceremony is now surrounded on three sides by clear water.  The rocky elements also make Pretty Klip a unique and breathtaking location.
Many of my couples will get married on the beach and get photos on the jetty or vice versa.  The jetty is only steps away from the beach.
For everything you ever wanted to know about Sapphire Beach, see Sapphire Beach Weddings in St. Thomas.
Like many good things in life, it doesn't come free.  The resort charges a $100 site fee for the beach and Pretty Klip for groups of 10 or less.  $250 for groups of more than 10.
There are plenty of amenities at Sapphire Beach.
There are restrooms and changing facilities as well as a beach shack with food and equipment rental shop.
The snorkeling here is fantastic and you should consider spending the day here after you wedding.
Sapphire has a taxi stand making getting to and from the beach ridiculously easy.
4. Limetree Beach – Story Book Sunsets
Limetree Beach sits on the south side of St. Thomas.  A convenient 5-6 minute drive from Marriott Frenchman's Reef and Bolongo Beach Resort, Limetree faces westerly resulting in stunning sunsets.
Wyndham Bluebeard's Beach Club, a tiny condo/timeshare resort rests just off the beach.  But don't worry, Limetree is one of the quieter beaches on St. Thomas.
On the far right side of the beach, a rocky reef emerges from the water and connects with a beautiful cliff face.  Some of the prettiest sunset weddings I've ever witnessed have happened on this lovely beach.
5. Brewers Bay
This Is a Beach for Locals…Mainly
A pretty little beach on the western side of St. Thomas.  Often sparsely populated and always gorgeous, Brewers Bay is another lovely beach for a quiet and simple wedding.
Because the beach is a bit more remote, it is best for small weddings with only the basics like flowers, arches, and aisles.
The best time for a wedding is you guessed it – mornings and sunsets!
But "for true" as the locals say, the reason Brewers stands out from the rest is for its sunsets.  Since Brewers faces west, you get the clearest and most complete view of a sunset of any of the beaches on this list.
Amenities are a little limited.  They do have bathrooms.
And there are 2 food trucks parked at the beach if you are in the mood for a beer, rum, or a fried pate before or after the ceremony.
I love Brewers for elopements and small groups.
Another advantage of Brewers is that it is free!
Aside from the sunsets, on a clear day, you can see not only a few small islands in the distance but also Vieques (an island off Puerto Rico).
Final note: the St. Thomas airport is not to far so on occasion an airplane will fly in.  But if we time it right, we shouldn't have any problems.  Especially at sunset.
6. Getting Married at Your Resort
I work with every resort and management company on St. Thomas.  If you are staying at Sugar Bay, the Marriott, the Ritz-Carlton, or any other hotel or villa, simply request me as your officiant!
Or, if you want to have your wedding on the beach at your resort, just let me know and I'll notify the resort.  All beaches are public on St. Thomas and we are permitted to have your wedding on any stretch of sand you like.
You don't have to book your wedding with the resort!
A recent resort wedding at Marriott Frenchman's Reef Resort at Morningstar Beach.
These are just a few of the beach locations for your St. Thomas wedding.  There are also private beaches, grand villas, historic churches and coconut groves where you can get married.
As your wedding officiant, I will help you pick the location of your dreams here in St. Thomas!
7. St. John Beach Wedding Venues
Ok, so I know this doesn't make sense.
I wrote an article on St. Thomas wedding venues, but I am now talking about St. John.
Well, St. John is a wonderful option even if you are staying on St. Thomas.
A quick 15-20 minute ferry ride from St. Thomas and you're in "Love City" (aka St. John).  A fair number of my couples stay in St. Thomas (there are far more accommodation options and prices are better) and have the wedding in St. John.
I love performing weddings at secluded beaches in St. John.
Most of the beaches on St. John are part of the National Park System.  I am licensed by the National Park Service to perform weddings on all their beaches.
Below is a video I took of a wedding at Maho Bay in St. John.
8. Water Island – Honeymoon Beach
Another fun adventure if you are staying in St. Thomas, is getting married on Water Island.
You can practically hit Water Island with a rock when standing in Frenchtown in St. Thomas.
A quick $6/person  and the 10-minute ferry ride is all it takes.
They only have 1 beach worth mentioning for a wedding – Honeymoon Beach.
Honeymoon Beach is a pretty little beach where numerous commercials and t.v. shows have been filmed.
The officiant in the below video performed a ceremony for a TV program "Married at First Sight" on Water Island.  I must say, the officiant is devilishly handsome.  🙂
On each end of Honeymoon is a beach bar.  So the hard part is choosing where to have the party after the wedding.
9. St. Thomas Villa Wedding Venues
Scattered across the island of St. Thomas are world-class villas that can host your destination wedding.  The vacation villas are available for both event rentals but also vacation rentals for you, your family and your closest friends.
I can't list them all here, but there is a great resource for all the villas and churches in St. Thomas – check out Blue Venues.
Villas offer a level of comfort, luxury and beauty that no reception hall can match.  The Wedding House is one such wedding venue.  The Wedding House hosts weddings but also boasts 7 rooms that can sleep up to 18 guests.  This private, gated estate has a private infinity pool and a small beach!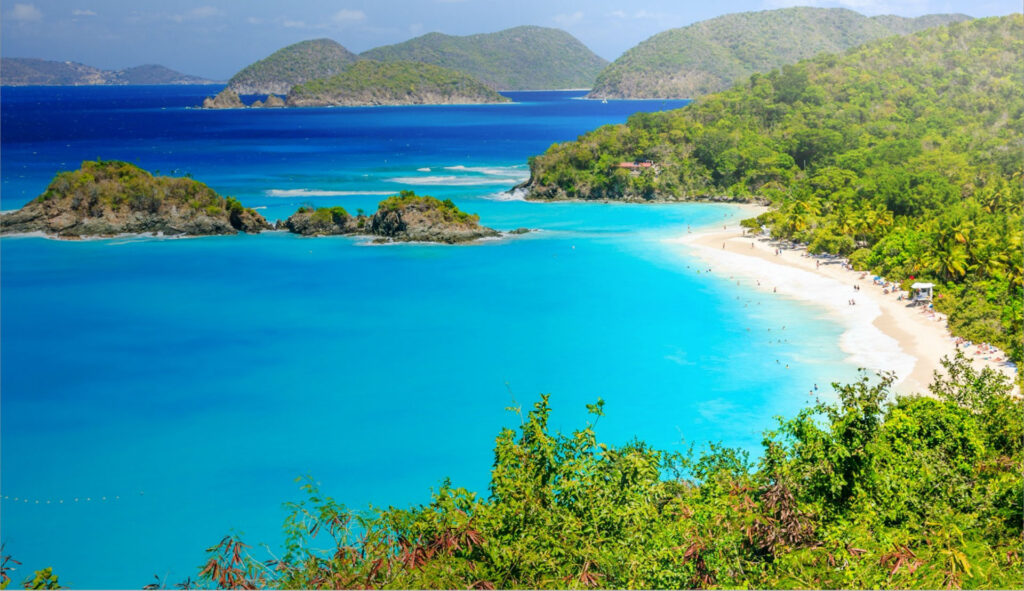 As you can now see, the hardest part about having a destination wedding is picking a beach or wedding venue to get married!
When you need a little help, shoot me an email or give me a call – 340-201-6069, and ask for Island Mike.