This is the most comprehensive guide to Secret Harbour Weddings in the universe.
So get ready for: The Good.  The Bad.  And the Ugly.
And the best part of this little review?
By the end, you will know everything you need to have (or not to have) your wedding at Secret Harbour.
In short, if you are thinking about have a wedding here in St. Thomas, you'll love this guide.
Let's dive in.
First off, I'm Michael.  I'm a wedding officiant here in St. Thomas and St. John, US Virgin Islands.
I've performed wedding on just about every stretch of sand on these islands.  I've hosted monster-size groups and intimate elopements.
So in this guide I'll try to give an unbiased, thorough and complete breakdown of all the details to help you make an informed decision about Secret Harbour.
I've broken the details down into 3 Sections:
1. The Beach
2. The Resort
3. The Restaurant/Bar
1. Secret Harbour Beach
Tucked in the South East corner of St. Thomas in Nazareth Bay is Secret Harbour.
From the beach you have views of Cas Cay, Rotto and Coculus Rock (at least that's what Google calls it) which are essentially little rocky islands.  They make for a spectacular setting and backdrop for wedding photos (see the title image for what it looks like).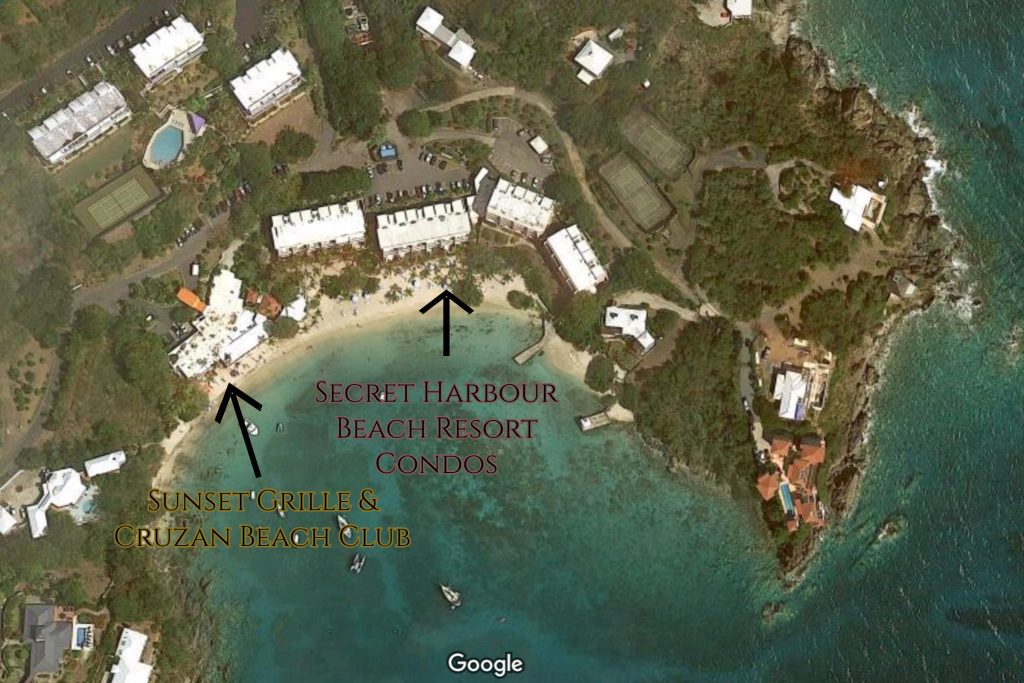 The beach faces in a somewhat westerly direction so you get a lovely view of the sunset.
The sand is wonderfully soft and fine.  Meaning you don't have large grains, coral or shells to maneuver.  Basically, kick your shoes off and walk down the aisle to your wedding spot.
There are several spots on the beach to have the ceremony.
Secret Harbour is a small beach.  So the mid-day hours can feel a bit crowded.  As with most beaches, the prime times to have a wedding are in the morning (I would say before 10 am) and in the late afternoon (after 4 pm).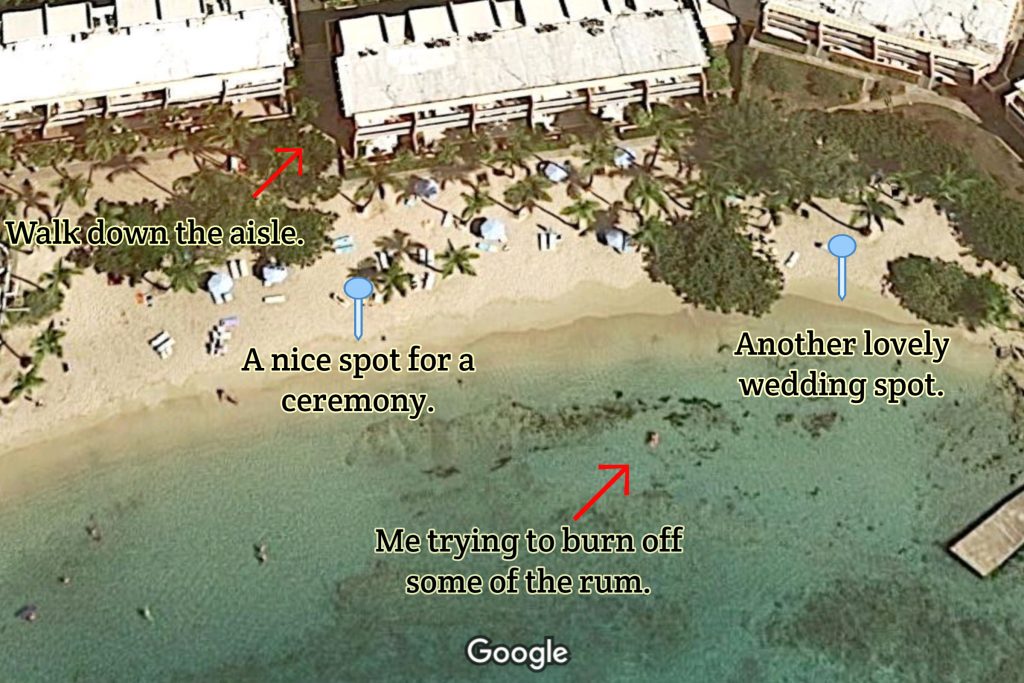 Beachgoers are at their height between 11-3 pm.  But as the sun and alcohol start to wear them out, they usually start packing up and by 4 pm – 5 pm have retreated to their air-conditioned rooms for naps and showers.
A condo resort, Secret Harbour Beach Resort, sits right on the beach.  So if you are looking for a secluded beach, this ain't the place.  We're not talking about some mega-resort, rather the resort is a medium-size cluster of buildings about 100 feet from the water.  (I'll give some more information on the resort in the next section.)
The buildings aren't obnoxious, but I don't recommend the beach if you are looking for a quiet, secluded wedding location.
What does a Secret Harbour Wedding cost?
Here are my Secret Harbour Wedding Packages:
[go_pricing id="officiant_only"]
Like all the beaches in St. Thomas, Secret Harbour is a public beach.  And unlike Magens and Lindquist, there is no admission fee or site fee to use the beach for a wedding.
That being said, the resort does offer a service for weddings you might want to take advantage of.  They charge $200 and they'll rope off a section of the beach for your wedding.
But unless you have a large group or want to have the wedding in the middle of the day, I don't think it's necessary.  People on the beach tend to be respectful of weddings.  And if they're not, we can always yell at them. 🙂
2. Secret Harbour Beach Resort
(and a few other options nearby)
If you really want to get married at Secret Harbour, I recommend staying at Secret Harbour Beach Resort ("The Resort").  The
Resort is made up of studio, 1-bedroom and 2-bedroom condos.
Personally, I am a huge fan of condo/villa living and vacationing.  Don't get me wrong, I love a hotel room as much as the next guy, but having a living room, dining room and a kitchen is how I roll!
Quick aside: I recently stayed at a hotel in a ritzy part of town and all they had was a small fridge and one of those honor bars.  Well one of the nights I woke up famished and thirsty and drank 1 can of Sprite and a bag of popcorn.  $14.
Aside over.
Being able to buy some booze, snacks, eggs and cereal can really make the vacation easier and less stressful.
And…
…I love condos for weddings.
Here are a few reasons:
1. Hair and makeup
If you are considering having your hair and/or makeup done, the stylist can come right to your room.  If you and your bridesmaids are all getting hair/makeup done, the condo will have room for you all to hang out, drink mimosas and do what girls do best!
For hair and makeup I recommend: Sugar and Spice or Jules Beauty Box (her site is crappy but she's amazing!).
2. Space – for getting dressed, socializing, gathering
Overall the extra space of the rooms invites more socializing and gathering.  Jamming more than 3-4 people in a hotel room conjures up images of my first high school party my sophomore year at a Holiday Inn.  I think there were 27 kids in one hotel room.  I had a primo spot near the in-room radiator.
In particular for weddings, having all the groomsmen or parents hanging out together and getting ready is better than having everyone "meet in the lobby" when their ready.
3. Cooking
Welcome parties, cocktail parties, rehearsal dinners, and lots of other opportunities for having formal get together's with your wedding guests.  Food and booze (or non-alcoholic booze) are easy to put together and less expensive than eating out every time you want to schedule an event.
It should be noted the Secret Harbour condos are individually owned.  So they are all decorated and laid out differently.  But generally they are all nicely appointed.
Even though they are individually owned, they're managed by the Resort and offer many amenities you'd find at a resort – housekeeping, room attendants, water sports (including a dive shop), etc.
Anyhow, if you want to get married here at Secret Harbour, your first choice should be The Resort.
There are a few options just off the beach I can also mention.
Would you like my opinion?
If you are staying at Secret Harbour Beach Resort, consider having the wedding at another beach.  Doing so is all very easy and makes for a more exciting wedding adventure.
Here's what I would recommend:
Lindquist Beach is about 6 minutes down the road from Secret Harbour.  The beach is in the state park system and beyond beautiful.
In the mornings and afternoons the beach is relatively, if not entirely, empty.  The beach is much larger than Secret Harbour so we can usually find a quiet and intimate location no matter how large your wedding party.
The sand is talcum powder soft.  The water is electric blue.  The island views of Tortola, Jost Van Dyke and others are unmatched.
How it would work:
If it's just the 2 of you and maybe a couple of guests, I'll pick you up at Secret Harbour and drive you to Lindquist.
If you have a larger group, we'll arrange for a taxi to bring your group.  The cost is around $5-6 per person each way.
After we finish the ceremony and pictures (and hopefully cake or champagne) you'll head back to Secret Harbour for your reception at…
3. Sunset Grille and Cruzan Beach Club
On the right side of Secret Harbour Beach sits Sunset Grille and Cruzan Beach Club.
I have been recommending Sunset Grille for like, forever.  Personally, I've only eaten there maybe 3 times.  It has only to do with the fact that my 3 children only eat sushi and McDonald's so…
Anyhow, Sunset Grille has it all.  Outdoor dining on the beach (it's covered but the walls are open).  Amazing views.  Excellent food.
But the most important, or should I say best thing, about Sunset Grille is: Jessica.
Yes, Jessica is why I always recommend planning your reception or after-ceremony dinner at Secret Harbour.  She's quite possibly the only person on this planet as passionate as me about weddings and celebrations.
It shows in her professionalism, enthusiasm and level of skill.
So who is Jessica?  Jessica is the event coordinator for Sunset Grille.
Here's Jessica: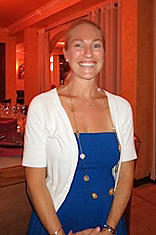 She'll help with seating, decor, menus, and generally everything that has to do with being a hostess and reception gangsta.
Now if you have a small group with only a few guests you can show up at Sunset Grill and eat up of their regular menu…no reservations necessary (but definitely recommended).
The regular menu is a bit casual, so if you want a little nicer restaurant with a more substantial menu, check out Caribbean Fish Market (Jessica also works as the event coordinator for Caribbean Fish Market).
*I get no kickbacks, free lunches, commissions or other remuneration for recommending these restaurants.  (Although it would be nice if Jessica offered me a free rum punch every now and then.  Please tell her I said that. :))
So, back to the million-dollar questions: should you have a Secret Harbour Wedding?
Only you can know for sure.  But I've tried to give a complete picture of the beach, amenities and wedding potential.
If you still have questions or doubts, call or email me anytime.
340-201-6069
or