This is the definitive guide to planning a wedding in St. John, Virgin Islands.
And let me be clear:
This is not some weak article that gives vague or regurgitated information.
Instead, you're going to get all my wedding knowledge from hundreds of weddings on St. John…which will help you with your wedding in 2019.
So if you're looking for a gorgeous, simple and affordable wedding in St. John in 2019, you'll love this guide.
Let's dive in.
Contents:
Chapter 1. St. John Wedding Venue
a. Beaches
b. Villas
c. Annaberg Ruins
d. Boat Weddings
Chapter 2. Restaurants for a Party or Reception
Chapter 3. Accommodations
a. Resorts
b. Villas
Chapter 4. Getting the Virgin Islands Marriage License
Chapter 5. Things to Do in St. John
Chapter 1: St. John Wedding Venues
A. St. John Beach Weddings
Most of St. John is a National Park.
And most of the beaches on the island fall within the National Park's boundaries.
That means the beaches are maintained and pristine. It also means they are extremely well monitored and regulated by the park. So don't plan on bringing a 6-piece band, flood lights, a circus tent and a circus monkey…oh, and they frown on digging for turtle eggs.
(And definitely leave your drone at home.)
The park rangers prefer the park to be quiet, beautiful and natural. To ensure weddings/events are properly within the park rules the National Park requires a permit.
So if you wish to use the park for a party or wedding, apply for a permit here: Event permit for National Park
Or, if you work with a properly licensed vendor (like myself), no permit is required.
As far as the best beaches for a wedding, in no particular order, here are the finest:
Trunk Bay
The grand dame of beaches in the Virgin Islands. The white sand, deep blues of the water make Trunk Bay a tough beach to surpass when it comes to sheer beauty.
The beach is large so there's plenty of space to spread out. The background views include the picturesque British Virgin Islands.
I like to have weddings in front of the tiny "island" just a few dozen yards from shore.
So is there a downside to Trunk Bay?
Maybe.
On occasion, multiple weddings will be going on at the beach. But as mentioned, there is plenty of space for everyone.
I recommend a morning ceremony, around 9 am.
Or around 4:30/5:00 pm – the beach bums and sun worshipers have cleared out.
There's a parking lot if you've rented a car or jeep. Taxi service is also consistent if you and/or your group want to leave the driving to someone else.
Trunk is also loaded with amenities:
Bathrooms
Changing Rooms
Showers
Snorkel/chair rentals
Beach bar with limited food menu
Pavilions for beach parties
There is a ticket booth when entering the beach. During the middle of the day they collect an entrance fee of $5/person. But in the mornings and late afternoon the booth is closed and there's no fee.
Hawksnest Beach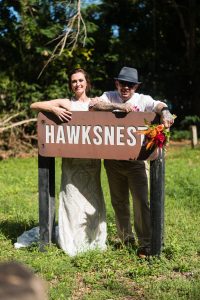 When you write a lot about beaches in the Caribbean, it can be difficult to find original ways to describe a stretch of sand. How many different ways can you describe perfect sand, blue-green water and beautiful views?
Hawksnest Beach meets all the criteria of an ideal Caribbean beach. What makes it one of my favorites on St. John is the privacy you'll typically encounter in the mornings and around sunset. It is not as popular with tourists as Trunk Bay.
As a general rule, if you have a large group (30+) and you want them to be seated, Hawksnest can be a challenge. Whereas Trunk is large and deep, Hawksnest has a shallower sandy area that can feel cramped with large wedding groups.
Hawksnest has ample parking for your wedding group.
The standard rule applies for weddings – have it in the morning or late afternoon and escape the crowds.
There are pavilions to provide cover for your guests while waiting for the bride's grand entrance. They also have changing rooms if you'd like
to get dressed at the beach…but probably easier to get ready at your villa or hotel.
And…
…there are rocks!
Cinnamon Bay
Cinnamon is a large, expansive beach with tons of space. It ranks up there with Trunk and Hawksnest in terms of picturesqueness (holy crap, I think this is actually a word).
A small eco-resort sits hidden in the trees away from the beach. Said eco-resort was basically destroyed by the hurricanes know as Irma and Maria – these lovely ladies laid waste to most of the structures.
The unintended benefit of having the resort uninhabitable is that the beach is often free of crowds.
A PTSD story from the wedding archives:
I had a wedding recently at Cinnamon Bay (post 2017 hurricanes).
The groom had driven down a walking path in his rental car. The path leads from the parking lot all the way down to the beach. So the groom had essentially parked his car right at the beach – about 1000 feet from the parking lot.
It just so happens a park ranger was at Cinnamon that day. When the ranger saw the car in a place that was clearly not made for cars, he approached the driver (the groom).
When asked why the groom thought it was ok to drive his car down a small path to the beach where clearly there were no other cars, the groom said, "it's ok, Island Mike said I could".
Now I was down the beach setting up and welcoming guests so I was unaware of the groom-ranger interaction. There I am all smiles and enjoying life when I spot a park ranger walking briskly in my direction.
At the same time I see the ranger, one of the wedding guests pulled out a bottle of champagne right in front of the ranger…
I like my weddings to be easy and stress-free. And I don't like when Ranger Rick is in a bad mood.
Anyhow, Cinnamon is a beach out of a travel magazine. A recent bride of mine got married there because Kenny Chesney named it as one of his favorite beaches.
For ceremonies, it provides lots of space, plenty of parking and wedding photos to make all your friends jealous.
Maho Bay
I think the most beautiful morning weddings I've ever performed have been at Maho Bay. It's a long beach but with a shallow sandy area before you encounter sea grape trees and tropical fauna just feet from the water.
A somewhat iconic location at Maho is a spot between 2 leaning palm trees. You will probably see lots of pictures of these palms.
Those palms are no more – casualties of the storms. While I love Maho still, it is not the same without those trees.
The key on Maho, even more so than the other beaches, is to go early. If you can manage getting up early (I love early weddings!), I would say let's meet there by 9 am. Any later and there's no telling if we'll find one of my favorite spots.
Parking at the beach is no problem. The problem for some is how remote the beach can seem. It's only 15-20 minutes from Cruz Bay but feels much further.
A recent development at Maho are the watersport shacks across the street from the beach. Paddleboards, kayaks, snorkel gear and a bar! While not necessarily helpful for a wedding ceremony, are nice additions if you plan on spending the day at the beach after you're married.
Oppenheimer Beach (also known as Gibney Beach)
2019 UPDATE:
Here's what I used to have on my website about Oppenheimer:
"Oppenheimer is the only beach I recommend that is not within the National Park borders.
What do I love about Oppenheimer?
Well, it sits within a tiny coconut grove. When I walk on to Oppenheimer I swear I'm walking back in time. It feels like what the Caribbean was like 50 years ago (or at least how I assume the Caribbean was back then). Raw, untouched and stunning."
As of the writing of this in 2019 the coconut grove is no more. There's now only a barren stretch of sand at Oppenheimer.
There's still a cool historical angle that makes closet nerds like myself excited about this little beach. The famed scientist J. Robert Oppenheimer owned a home on the beach in the 1950s. His home still stands just feet from the water.
The beach is maintained by the state park system so there is a site fee and I will need to reserve the day/time for you or if you are planning the wedding you can reach them by clicking here: Virgin Islands Parks and Recreation. The rules for hosting a beach reception or party are a bit looser than on a National Park beach.
Jumbie Bay
Not a common choice for weddings, but having had a few there, I must say you could choose worse spots.
There's a short walk down a relatively easy path to get to a beautiful little bay. On most days, only a few other beachgoers are around.
If the look you're going for is remote and natural, Jumbie is the spot. The water can be rough some days, but the seclusion and more rugged feel of the beach makes this a fun and unique option.
My General Beach Thoughts:
Choosing a beach should be an easy and stress-free affair. I mean, you won't really be upset with whichever beach you choose.
And I would put choosing the beach as probably one of the first decisions to make in the wedding planning process. Most of the remaining decisions you have to make will stem from choosing your favorite beach.
If you're finding the choice difficult, another way to approach the process is to decide what time of day you'd like to have the ceremony. Then from there we can narrow down the best beach option.
Please treat the planning process like planning a day at the beach. It should be simple, easy and fun.
And my main role in your day is to ensure you have a fun and leisurely ride with me as your sober (typically) captain. Kinda a mix between Captain Kirk, Jack Sparrow and Han Solo.
And on those days when you start to feel like the planning process is stressful or difficult, know that little ol' me is down here with a shot of rum waiting for you.
B. Villa Weddings in St. John
I tend to be a purist.
A St. John destination wedding should be on a beach. Or on the water. Or close enough to the water to be able to skip a rock without owning an arm like Derek Jeter.
Admittedly, my purist ways are not gospel. If you subscribe to some other belief system that believes a villa wedding is a good idea, I'll still help. But for me not having a wedding on or next to the water would be like going to Washington DC and not visiting the Lincoln Memorial, Washington Monument or the Smithsonian.
And I get it, some of my couples choose to host their wedding ceremony at a villa instead of on the beach for a myriad of reasons. But for me it's the moral equivalent of going to our nation's capital to swim the Potomac.
Anyhow, I'm probably being too severe. The fact is, St. John boasts unimaginably beautiful villas. If I were Kenny Chesney or a billionaire I too would probably own a villa on St. John.
And it's hard to argue with the convenience of hosting a wedding and reception at the same location.
And it's hard to be too critical of a setting like this: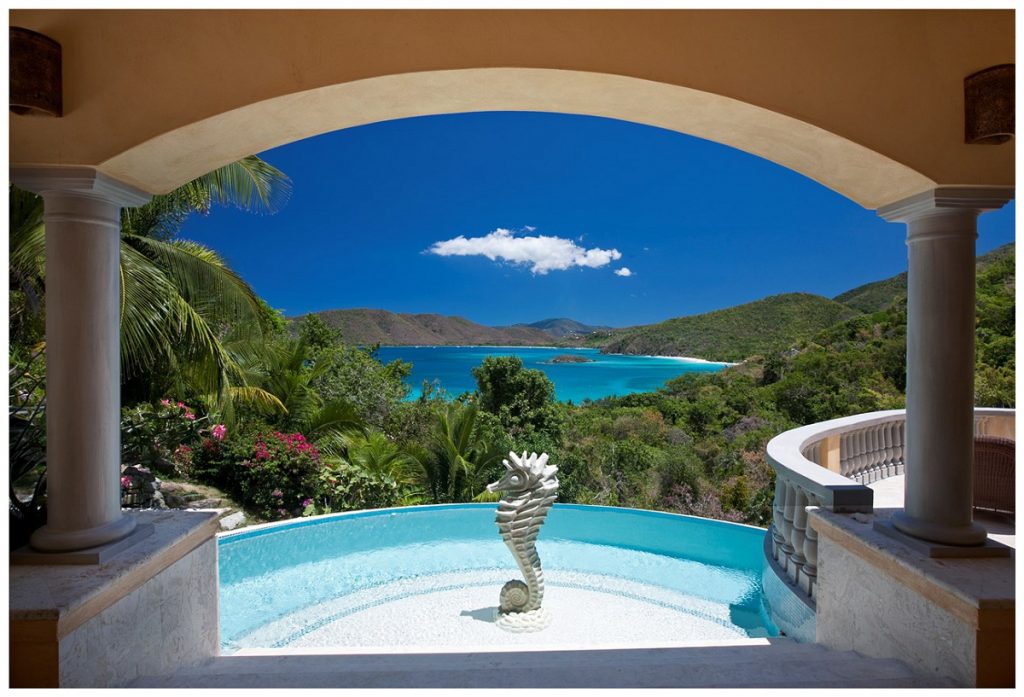 Villa MAS DEL in St. John
Finding a villa on St. John is relatively easy. Head over to VRBO.com or AirBnb.com.
As you look at the villas, you'll need to keep a couple things in mind:
Does the villa allow events?
I've performed weddings of all sizes at villas throughout St. John. When choosing a villa venue for your wedding, you'll have to ensure the villa permits parties/events. Some will charge an event fee. If it's just the 2 of you and 3 or 4 guests, most villas won't care if you have the event there.
Villas don't allow events for different reasons. For one, villas aren't interested in the potential liabilities of having large groups at the villa. And also the potential damage/wear/tear of having a wild party at their $10 Million Villa. Basically they're worried you're going to invite 30 guests over for a The Hangover Vegas-style party…chickens and all.
The villas that allow events will typically charge an event fee to cover such eventualities (inevitabilities) as Uncle Harold putting his foot through the glass coffee table or the entire wedding party ending up in the pool by the end of the night. 🙂
Catering/vendors ok with location?
St. John is a small island but still has a lot of remote locations. I mean locations where a 4WD is required. Locations where the only living creatures within ear shot are iguanas and wild donkeys. So it doesn't hurt to confirm your vendors are willing to come to the location.
Now when you first start looking at villas for your wedding and/or reception, don't get sticker shock. You might see a weekly rate of $18,000 for a 6-bedroom villa. But some simple math will make that number look darn right cheap! Or at least affordable.
Check out these numbers:
$18,000 weekly rate
$2,571 daily rate
$428 per couple daily rate (daily rate divided by 6 rooms)
Certainly cheaper than staying at Caneel Bay or The Westin where daily rates are around $700/night. And you end up saving a decent chunk of change by having your own kitchen and booze at the villa. Plus you have the added benefit of getting to spend a lot of time with family and friends at your private residence and pool!
My buddy got married at Hawksnest Beach and had the reception at his villa – Kalorama. We danced and partied the night away in a villa that could easily grace an episode of The Lifestyles of the Rich and Famous.
C. Annaberg Ruins Wedding
I have an active imagination. But since I don't have my wife's consent, I can't share most of my fantasies…so I'll stick with the more tame and family-friendly ideas…and ones that will actually be helpful for planning an island wedding!
One of my favorite little daydreams is imagining the islands as they were 200+ years ago…
As we pull into Cruz Bay there are majestic tall ships in the harbour. The coastline and mountainside mostly deserted, wild and covered in tropical fauna. The buzz of the busy port at the docks as cargo is loaded and unloaded. Maybe spices from a faraway land brought to the islands. And leaving the island to be exported – some of the best rum known to civilization.
Arriving in St. John today is still a surreal experience. Cruz Bay is a sleepy and beautiful little bay. Tiny shops, restaurants, island characters right out of a Jimmy Buffet song line the water's edge. I never tire or lose the child-like wonderment of how stunning St. John is when pulling into Cruz Bay.
Anyway, back to my fantasy…
I take a donkey drawn wagon to the far end of St. John. I arrive at noisy and bustling enterprise. A monstrous sugar mill. The mill radiates heat…almost as much as the hot Caribbean sun. Men groan under the weight of different burdens – cutting and hauling sugar cane, moving molasses, or who knows what.
(In my dreams) I am a dignitary or royalty. So I enjoy the production and beauty of the location without having to sweat. I imagine I have a cooled (this is before blenders) rum drink in my hand.
Anyhow, when you first arrive at Annaberg Ruins it's kinda like my little fantasy. It's like walking back in time.
The wonderfully resilient and well preserved sugar mill produced sugar, molasses and rum. Many of the buildings are still standing. And as someone with soft hands, I cringe at how hard life must have been back then.
But I do enjoy walking the grounds. I've performed my share of weddings there. Really there are innumerable spots under the shade of crumbling walls, old crooked trees and on vistas overlooking the British Virgin Island of Tortola.
Larger groups are doable, but I tend to think the venue lends itself to smaller, intimate weddings.
D. St. John Boat or Yacht Wedding
A perfectly acceptable path to wedded bliss is on the deck of a massive sail boat or yacht.
Check out Kekoa or Cruz Bay Watersports.
I'll bring the photographer, flowers and officiant, you bring the boat.
You can have a small group for an intimate sunset sail or 30+ people with a catered reception drifting on the water.
Chapter 2: St. John Restaurants (for your "wedding reception" or cocktail party)
If you'd like to have a reception after your wedding or a romantic, celebratory dinner, St. John has restaurants for whatever taste or look you're going for.
If you want a private party, many restaurants offer a "buy out" option where you essentially rent the entire restaurant for the evening…pretty cool option.
Want to be a total baller? If it's just the 2 of you, buy out the whole darn restaurant and have the entire place to yourselves for a romantic dinner for 2. (Seriously though, this is only for hedge fund managers, professional athletes and Kim & Kanye.)
Here's a list of the restaurants with a very brief description. Check out their respective websites for full details.
Located right on the sand at Cruz Bay. Super casual, but perfect for a less formal and relaxed reception. They'll set up tables and chairs right on the beach. One of my best friends was married in St. John a couple years ago and he had a cocktail, welcome reception at Beach Bar. They had amazing appetizers and drinks and the perfect atmosphere for an island party.
One minute walk from the ferry dock in Cruz Bay, a favorite restaurant for many of my wedding groups that want a traditional sit down dinner. The food is fantastic. A quick story…
I had just moved down to St. Thomas. The first weekend on the island I took the ferry over to St. John. I roamed Cruz Bay and ran into a few attorneys I met earlier in the week. They invited me to join them for dinner after having a few drinks at Woody's. I remember being relaxed after a couple bushwackers as we headed to what looked like someone's backyard.
To celebrate my arrival in paradise I ordered the largest lobster they had in the kitchen. It was a monster. Instead of bringing a little dish for the drawn butter, I had them bring me a bowl of warm golden buttery liquid to drown my lobster in.
We ate dinner under the stars. I had arrived.
Anyhow, great spot.
Zozo's sits within the Caneel Bay Resort. It's about 6-7 minutes from Cruz Bay. The restaurant occupies an old sugar mill. Very cool.
Ok, I only rarely eat at Zozo's. There's a good reason for it. It's my secret weapon for when I need to impress my wife. I won't get into particulars, but occasionally I do something boneheaded and know that only an evening at Zozo's will get me out of the doghouse.
To date, I've only had to take her to dinner once in 9 years. (Ok, it had something to do with forgetting an important date in our lives. The most important date of all. You know, the date that forever changed my life for the better.)
UPDATE: With Caneel Bay severely damaged I haven't heard when the restaurant will reopen.
I'm shooting in the dark on this one. I've never ventured here but from all the online digging I did (in about 4 1/2 minutes) confirmed Ocean 362 makes edible food.
When I visit, I'll be trying the shrimp and lobster ravioli.
Steps from the water in Cruz Bay, Joe's is a casual spot mainly good for a burger or pizza. But let me promise you this, a burger or slice never tasted so decadent. I mean, you're 30 feet from the blue waters of the Caribbean Sea. I don't think you or your guests are going to complain you didn't have some version of – Chicken Marsala, red skin potatoes, green bean salad – at your wedding reception.
Be bold and go for fun over pretentious and typical. 🙂
Catering Options:
If you want a private reception at your villa or on the beach, you have only 2 options as far as I can tell.
I have a love-hate relationship with Passion Fruit. I mean personally the 2 owners are dear friends of mine. And their food is a.m.a.z.i.n.g. But damn if I don't leave every wedding with a 1 1/2 lb of beef tenderloin and 3 or 4 sea bass filets. They are largely responsible for the fact I no longer weigh what I weighed in college.
For a beach BBQ I can't personally vouch for Barefoot Cowboy. But I've had a few brides hire them for beach receptions at Trunk Bay. The reports I've received back have been nothing short of stellar.
Chapter 3: Accommodations (Villas, Resorts and Inns) on St. John
A. Hotels and Resorts
St. John is not your typical Caribbean resort mecca. Thanks largely to the National Park Land protected from development, only a handful of resorts exist on the island.
The resort landscape is further limited due to the storms known as Irma and Maria. But there are some excellent hotels still available.
I should admit that for the longest time I never thought anything about the name of this resort. Only after one of my couples mentioned the resort was built near a hangman's gallows did I put 2 and 2 together. Jeez.
I'm not sure of the actual history of the resort, but it's beautiful and just around the corner from Cruz Bay.
In the heart of tiny Cruz Bay is a cozy boutique hotel. The owners, David and Denise, and staff will know your names the moment you check in and will be your hosts during you island adventure.
Just across the street from the beach in Cruz Bay, Grande Bay is an all-suite resort. So it's easy villa living if you want to cook and blend your own frozen rum drinks.
An Adult-Only resort over looking Cruz Bay. Unique rooms and cottages are private and intimate. Kinda what I'd be looking for on my wedding/honeymoon.
"Eco Resort" I believe is a euphemism for "luxurious tent"?
Sadly, another casualty of the hurricanes and not likely to open until late 2019, if at all.
If you're planning on having a wedding in 2019, 2020 or 2021, Caneel Bay Resort won't be an option for lodging. They took a pretty good beating from the hurricanes. I listed it just in case you are thinking about a 2024 wedding.
The Westin is open for business. While it's mainly time-share, you can still get rooms on this beautiful resort even if you aren't an owner. We can have your wedding on the beach at The Westin (it's not part of the National Park so we have a bit more freedom with decor, catering and parties) and they even have an event staff.
So I love working with their team and coordinating the ceremony and reception details.
B. St. John Villas
Don't be shy about getting out of "resortland". Try your hand at living the pirate's life in the home of someone that probably makes 20 times what I make a year.
Villas, cottages and luxury homes dot the island. Anything from 1 bedrooms to 10+ bedrooms.
Check out VRBO.com or AirBnb.com.
Chapter 4: Getting the Marriage License for a St. John Wedding
The courthouse that issues the marriage license is in St. Thomas. So at some point during your trip you'll need to make a stop there.
The ideal time is the day you arrive in the Virgin Islands at the St. Thomas airport. The courthouse is about 10 minutes from the airport and is on the way to the St. John Ferry Terminal. This will save you a trip back over to St. Thomas.
A few other ideas from my couples:
Stay your first night in St. Thomas. Grab a room near Charlotte Amalie and go to the courthouse in the morning.
Zip over to St. Thomas on the 7 am ferry first thing in the morning. Grab a taxi to the courthouse and be back on the 9 am ferry back to St. John.
Take the ferry over to St. Thomas and plan on exploring the island after visiting the courthouse.
The marriage license and process is super simple. You'll need to fill out and mail in the license prior to arriving in the islands. The courthouse will prepare the documents and have them ready when you arrive.
All you'll need on the day you pick up the marriage license is an ID (passport or driver's license).
Detailed instructions, the forms and directions to the courthouse are found here:
Get the Virgin Islands Marriage License
Chapter 5: Things to Do on St. John
If you don't enjoy a beach, clear blue water and rum, there isn't really much I can do for you.
Ok, there are a few things to do. But beaches, sea and rum are the staples on our little island. So whether it's just the 2 of you or 50 of you, here are some of the activities for before and after the wedding.
Hiking in the National Park
The Virgin Islands National Park is criss-crossed with hiking trails. Some pretty remote ones. Others well traveled. Some challenging. Others a breeze.
You can do hiking in one of 3 ways: 1.) grab a map and just start walking, 2.) speak with a park ranger and find a trail(s) that suits what you're looking for, or 3.) go on a guided hike.
Here are some descriptions of some of the more popular trails:
Boating (Sail Boats or Power Boats)
Boat trips are the national past time in the Virgin Islands. Once upon a time, I spent every weekend sailing or motoring around the islands. Then the good Lord blessed me with my 3 little boat trip killers – Daisy, Scarlett and Marek.
Circumnavigate the island. Shoot over to the British Virgin Islands. Jost Van Dyke, Anegada and Virgin Gorda are all on my list when my kids are finally old enough to be abandoned for a long weekend. (Don't worry honey, that day will come…hopefully.)
And it really doesn't matter the size of your group. There is a boat big or small enough for any group size.
Land Activites
1. Horseback riding – Carolina Corral is a stable offering trail rides on the east end of St. John.
2. Donkey watching (island exploring) – Wild donkeys roam the island some of the further reaches of the island. These lovely creatures are relatively tame (but please don't try to be too friendly with them). The last time my wife and I went over we ran into a late-term, mommy donkey. She was a bit standoffish but still allowed us to take a few pictures. Really, donkey watching is a good excuse for exploring the more remote stretches of the island. Bring a cooler, fully charged cell phones and hiking shoes.
3. Shopping – This was hard to write, but I understand some may find this a legitimate activity. Mongoose Junction and downtown Cruz Bay have lots of trinket, clothing and jewelry shops. Knock yourself out. 🙂
4. Look, I'm really stretching here, but why not try some some rum? I mean I get it that you can do "rum" anywhere. But our rum, mixed with the salty air and the Caribbean trade winds, tastes better.
5. We have an honest-to-goodness brewery in St. John – St. John Brewers. They even offer brewery tours. Again, microbrews are everywhere anymore. Kinda like vegan restaurants. But our Caribbean brew is made with the love of the islands.
6. Learn about local history. Stop in the National Park Visitors Center and pick up a book on local history.
That's it. There's nothing else to do on land.
Water Activities
Well, that just about covers everything I can think of to get started on planning your wedding, reception, and vacation here in St. John, US Virgin Islands.