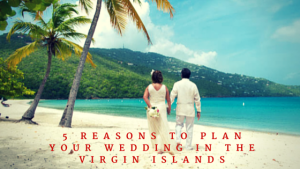 Look:
No one wants an uninspired or "standard" wedding.  Most brides want a beautiful and elegant ceremony…that is also affordable.
Obviously, if price were no object, everyone would have a wedding to rival the royals.  But what if you could have the wedding of your dreams and it was easier and cost less than a "typical" wedding?
So let me share this with you: destination weddings are a breeze, they are affordable and are unforgettable.
The 5 Reasons you should absolutely pick St. Thomas or St. John in the Virgin Islands for your wedding location:
(Learn More about St. Thomas Weddings)
1. Your Wedding Day will Have Perfect Weather
Picking your wedding date could not be easier.  Here's why:
ST. THOMAS WEATHER
St. Thomas and St. John always have ideal weather.  You never have to worry about picking a specific season or time of year for your wedding date.
And the best part of destination weddings in the Virgin Islands is that you aren't just spending 1 day with family and friends (or just one day celebrating the 2 of you).  You have 5, 6, 7 days to enjoy your family and celebrate your marriage.
2. St. Thomas and St. John has the best destination wedding vendors in the world
Would you rather have:
A part-time photographer or videographer who's day job is fixing cars at the local auto body shop?
OR
Or a professional wedding photographer or videographer that captures 150-200 destination weddings a year?
St. Thomas and St. John are host to over 4,000 destination weddings and vow renewals each year.  About 10 every day.  They have the highest number of weddings per capita anywhere in the US.
"From catering to photography to floral arrangements, we have an entire industry dedicated exclusively to destination weddings.  You can't find that anywhere else."

-Amber Ambrose, a wedding planner with Blue Sky Ceremony, St. Thomas
Virgin Islands Wedding Planners
"The demands of planning hundreds of weddings have made me the best I could ever be.  And unlike a stateside wedding, the options here are endless."
Marcia, Beach Time Event Planning, St. John
To belabor the point a little, the challenges and logistics of planning a destination wedding are immense…and couples rely far more heavily on a wedding planner when planning their wedding from hundreds of miles away.  So wedding planners in the Virgin Islands have a level of competence I've not seen in many of the state-side event planners I've worked with over the years.
Wedding Officiants & Ministers in St. Thomas and St. John
St. Thomas and St. John officiants are experts in delivering thoughtful and personal wedding ceremonies in any wedding venue – a villa, beach or church.
Think of it like this, if you are at a Broadway show, do you want the headlining actor that's performed the script and knows every angle or some new understudy that's only rehearsed the play a few times?
By the way, if you are planning on bringing a family member or friend to perform the ceremony, have them go online to get ordained and then learn a thing or two about Officiating Their First Wedding.
(If you are planning on a destination wedding, take a look at this Destination Wedding Script and these Wedding Ceremony Readings for a beautiful ceremony.)
Island Florists
Jessica Aubain with Roses, Too, a wedding florist in the Virgin Islands, has been making beach and villa weddings beautiful for 10 years.
Having worked on thousands of weddings, she has seen and heard it all. There is no request or wedding inspiration she can't fulfill for destination wedding brides.
Wedding magazine photos can't match the art and style of florists on the islands.
Destination Wedding Photography and Videography
When it comes to photography and videography, the small group of professionals on St. Thomas and St. John has collectively shot hundreds of thousands of wedding photos and thousands of hours of wedding video.
There isn't a group of photographers out there that know better how to capture your wedding, the beach, the sky and the water than the wedding photographers and videographers in the Virgin Islands.
Catering for your Virgin Islands Wedding Reception
Passion Fruit Chefs, located on both St. Thomas and St. John is the premier wedding caterer in the Virgin Islands. These are the chefs used by the rich and famous when visiting the islands.
Caterers on the islands specialize in everything from a beach BBQ to a lavish, multi-course feast.
Wedding Cakes
Just because you're on a beach doesn't mean you have to forego the greatest of all wedding traditions, the wedding cake!
Sadly, or maybe tragically, some people don't like cake.  I try not to judge people, but this is one area where I must judge you.  I don't think we can be friends.  🙂
But even if you don't eat cake your guests might.  And the cake cutting makes for beautiful photos.
When you decide on planning a destination wedding in St. Thomas or St. John, you will get to work with professionals like Cynthia from Island Sweet Stuff.
From simply elegant to luxurious:
 OR
3. You will Save Money By Planning a Destination Wedding
You might be wondering:
What is the cost of a destination wedding?  (Check out St. Thomas Destination Wedding Cost for 2017)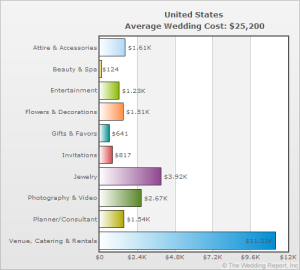 The average cost of a wedding in the US is right around $18,000 when you add venue, reception, ceremony and photography.
This cost does not include the honeymoon, jewelry, invitations or attire.
Source http://www.costofwedding.com
The cost of a comparable destination wedding in St. Thomas or St. John is about $15,000.  BUT, destination weddings seldom have the same guest turnout as a stateside wedding.
The average size of a wedding in the Virgin Islands is about 30 people.
The bottom line:
The cost for a wedding with 30 guests with reception is about $7,500.
A small group of 10 people will run you about $3500 with a formal reception or $1500 with a beach BBQ.
Just the two of you?  You can have a destination wedding for well under $1000.
The Virgin Islands are a) US Territory meaning you don't need a passport, b) the US Dollar is used, and c) marriages performed here are recognized in all 50 states.
And the best part?
You already are in paradise, so you won't have to plan and pay for a separate honeymoon!
(Check out this article for helping decide if you should have a separate honeymoon – "Yes or No to a Separate Honeymoon".)
4. Destination Wedding Venues: Over 100 Beaches and Villas to Choose From for a Picture Perfect Wedding in St. Thomas and St. John
Now you have to choose your destination wedding location.
Beach? or Villa?
When planning your destination wedding you can either get married on an idyllic island beach or in a multi-million dollar villa.
There is no right or wrong choice here.
St. Thomas and St. John Beach Weddings
World-famous stretches of sand populate the Virgin Islands.  Magens Bay.  Trunk Bay.  Limetree.  For a guide to all the beaches on St. Thomas check out: The Ultimate St. Thomas Beach Guide.  For the beaches in St. John check out: St. John Beach Guide.
Villas
The Wedding House in St. Thomas is a wedding venue in St. Thomas.
Imagine having your wedding in this enormous villa with 50 of your closest friends and family.
There are another 20 villas you can choose from.
St. John also has dozens of villas of all sizes and prices.
So picking a wedding villa in St. Thomas or St. John is easy no matter what your tastes or budget.
5. Things to Do Before and After Your Virgin Islands Wedding
St. Thomas and St. John sit in the Caribbean Sea.  Planning a destination wedding in the islands means you can celebrate your honeymoon simultaneously with your wedding.
St. Thomas and St. John Restaurants
St. Thomas and St. John have amazing restaurants.  Fresh seafood.  Locally grown island fruits.  World-class chefs.  And they run the gamut.  You can go with a basic BBQ joint or something high-end.  A few of my favorites and ones I recommend often.
Havana Blue (St. Thomas)
Thirteen (St. Thomas)
Zozo's (St. John)
St. John Brewers (St. John)
Eating out is never a problem with the dozens and dozens of restaurants covering both islands.
Virgin Islands Excursions
Dozens and dozens of islands are a short boat ride away from St. Thomas or St. John.  Include a boat trip for you and your wedding party.
Dolphin Water Taxi will shuttle you from either St. John or St. Thomas to Jost Van Dyke in the British Virgin Islands.  Heck, you could even have your wedding on a secluded island.
And check out:
– a zipline tour on St. Thomas
– snorkeling at Trunk Bay in St. John
– horseback riding on St. Thomas
– hiking the Reef Bay Trail in St. John
Shopping
Go duty-free shopping for high-end jewelry and island treats.
Main Street in St. Thomas has plenty of shops to buy your wedding bands or bridal party gifts.
If you have a wedding party or if you want to give your guests welcome gifts, consider bottles of Cruzan Rum, Caribbean Rum Balls or Local Hot Sauces.
An affordable destination wedding in St. Thomas or St. John will make your wedding unforgettable.  If you want to avoid an "ordinary" and overpriced ceremony in your local reception hall, come down to the Virgin Islands.
Start planning your destination wedding in the Virgin Islands today.  A picture perfect wedding awaits!
To get started call contact Michael at 340-201-6069 or enter your email below: