St. Thomas & St. John Weddings

Information and pricing for wedding packages in St. Thomas and St. John, US Virgin Islands. How to get your US Virgin Islands marriage license.
St. Thomas and St. John Wedding Galleries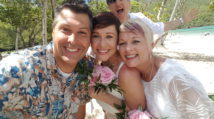 Mal and Kacie and their guests arrived on a cruise ship in ...
Reviews & Testimonials
If anyone is getting married in St. Thomas I would recommend Michael. We were on a very tight budget and he helped us keep our wedding within our budget. He picked us up at the cruise ship dock and took us to Magens Bay Beach where we found a nice quiet stretch of beach and he married us. It was intimate and lovely.
– Tracy & Karl
A wonderful wedding day! Michael was such a blessing for our special day. We spoke several times before we arrived and he always assured me everything was going to be perfect and it was! We could not have asked for more. Thanks!
– Julie & Steve
I would highly recommend Michael. He helped us pick the location, a shady spot near the beach, and arranged for our flowers and the photographer. Everything was just as we imagined. Everything was organized and exactly as we discussed.
– Jill & Pete
We initially contacted Michael to perform a small ceremony with us and our parents. But as we got closer to our wedding date more and more of our family and friends wanted to come to St. Thomas. We ended up having over 20 people come.
As the wedding plans grew out of control, we hired Michael's wife Amber to plan the wedding. Amber with Blue Sky Ceremony was incredible. Michael and Amber together helped with every detail. At times it felt like we had both of them working full time. They helped with finding villas for all of our guests. They made recommendations for restaurants, bars and the location for several of the group events.
– Rebecca & Mark